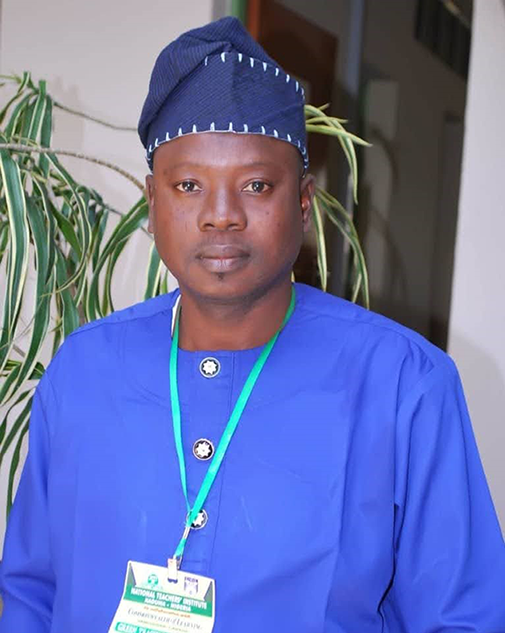 Reading Time:
5
min read
Mr Adeleye Kayode is an Education Officer at the National Teachers' Institute (NTI, Kaduna) in Nigeria. His regular job includes stakeholder education and sensitization on the programmes offered by the institution, as well as technology and media advocacy through TV, radio and social media to reach potential candidates for Green Teacher Nigeria Programme.
Mr Kayode is one of the educators who have been trained to be able to use technology to provide learning and learner support in distance education programmes offered by NTI to in-service teachers. Through the Green Teacher Nigeria programme, COL has been supporting NTI Kaduna to build the capacity of its staff to be able to provide targeted support for teachers as well as teacher mentorship.
Having participated in the workshops, Mr Kayode feels that he has gained knowledge and skills to ensure that the in-service teachers have a good learning experience.
"There is no doubt that the workshops on learner support have been of immense benefit to me as Education Officer to help the learners to overcome problems that arise because of learning difficulties."
He explains that the support service that he and other officers provide is aimed at fostering development of skills and ability that augments optimum academic development of learners. "Learners require both academic and non-academic support because of the synergy and interdependency nature of them."
He is optimistic that technology is key to an improved learning experience for students taking their courses at a distance. "I feel that ICT and technical support services is most important. All students need to be computer literate and technical support services need to be on the ground for them."
The experience of many officers like Mr Kayode is that a number of teachers have various ICT devices but do not use them for learning purposes. "We encourage and educate them from time to time in making use of their gadgets and the many functions of their phones. Many of them have iPads, laptops but they just keep them unused."
Mr Kayode recognises that in-service teachers need round-the-clock support in their training programme, and this can only be provided using technology. "We have organised a series of sensitization sessions explaining the advantage of using the online platform to channel many of their complaints."
Using the knowledge gained in the capacity building workshops on learner support, Mr Kayode hopes to continue assisting the teachers joining the teacher training programmes at NTI to know where they can get online support. "We will continue to assist many of those who are newly admitted to access their study materials from the eLearning site."