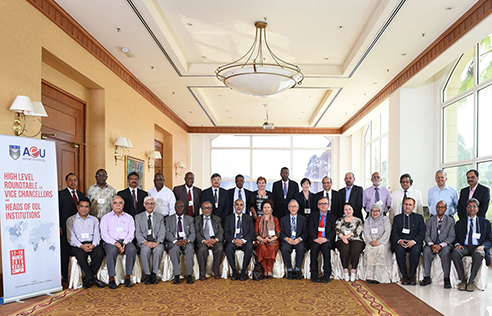 Reading Time:
4
min read
Message from the High Level Roundtable of OU Vice Chancellors
Kuala Lumpur, Malaysia, 17-18 March 2016
There is a renewed interest among policymakers in increasing enrollment rates in tertiary education. It is now perceived as integral to advancing sustainable development. The Incheon Declaration (May 2015) endorsed by Ministers of Education emphasizes this and identifies ODL and MOOCs as important channels in reaching the Sustainable Development Goal that relates to education. Leaders in ODL need to make quality even more fundamental and play a leadership role in MOOCs and OER.
This was the message emerging from the High Level Roundtable of Vice Chancellors, organised by COL and hosted by the Asia e-University in Kuala Lumpur, Malaysia, during 17-18 March 2016.
COL has noted the rising concern about the quality and credibility of ODL which is now facing intense competition from research universities that have accepted blended learning as a matter of routine. Wider adoption of MOOCs by research universities has led to learners having more choices in tertiary education. COL organised this round table of OU Vice Chancellors and senior officials of ministries of education against this background.
Professor Asha Kanwar, who delivered the inaugural address, observed that OER and MOOCs have started to initiate major changes in increased access to quality tertiary education. The ODL paradigm is best equipped to take advantage of these developments and thus help policymakers handle the challenge of quality at scale even better. Asia e-University hosted the event under the leadership of Professor Dato Ansary, the Vice Chancellor. Dr. Godson Gatsha, Education Specialist, Higher Education at COL, served as the principal organizer.
Vice Chancellors and senior officials from 19 countries participated in this event. The resource persons included Dr Caroline Seelig of the Open Polytechnic of New Zealand, Professor Brenda Tynan of OUUK, Prof Rozhan Idrus, University Sains Islam Malaysia, Ms Mariana Patru of UNESCO, Paris, Gard Titlestad, ICDE and Tan Sri Prof Raj Dhanarajan, Wawasan Open University. The participants thought that the discussions were highly relevant and stimulating. COL will follow up on the core recommendations emerging from this workshop to support institutions to provide quality ODL.
Speeches & Presentations
Introductory and Closing remarks delivered at the High Level Roundtable for Vice Chancellors in Kuala Lumpur, Malaysia by Professor Asha Kanwar, President & CEO, Commonwealth of Learning.