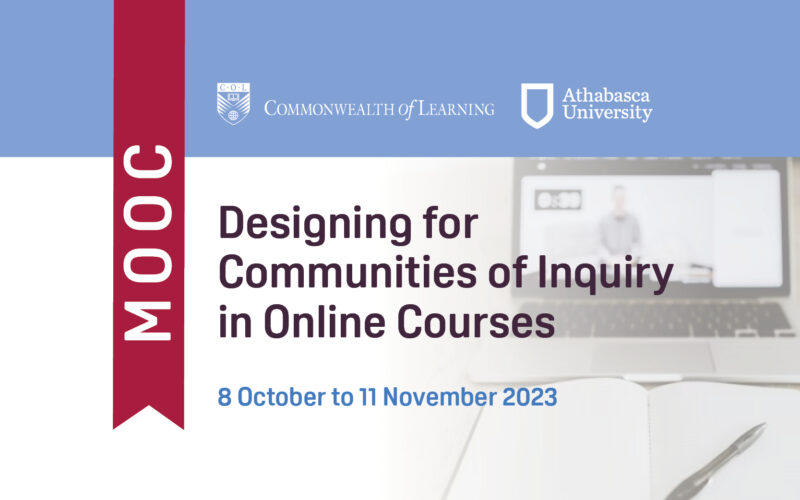 Reading Time:
4
min read
The second offering of the Designing a Community of Inquiry (DCOI) massive open online course (MOOC), jointly offered by the Commonwealth of Learning (COL) in collaboration with Athabasca University (AU), Canada, will start on 8 October 2023.
Educational transactions in a digital environment require the design and delivery of a thoughtful interplay between the instructor, student interactions and course resources. This five-week DCOI MOOC will explore the how and why of using the community of inquiry as the basis for developing and teaching high-quality online and blended courses. This course highlights practical ways of helping students learn through active participation and shared sense-making.
This introductory course is open to anyone, anywhere and is mobile-friendly. DCOI has been designed to assist professors, teachers, instructional designers, education developers and educational technology specialists to rethink pedagogical processes and develop appropriate action plans for implementation within their own context.
The DCOI MOOC, "provides two important things for educators moving online. First, it provides an overview of community-based, learning-focused approaches to the design, delivery, and assessment of online learning. Second, it offers an example of how this kind of design can be created, even in large enrolment courses. One will experience a learner-centred environment, offering dedicated support to those wishing to learn and motivating those feeling less willing and/or less able to learn. Past participants stated that they had a great learning experience in a well-designed and structured MOOC and that they had a truly rewarding experience," commented Professor Martha Cleveland-Innes of AU, one of the course instructors.
Dr Sanjaya Mishra, COL's Director: Education, said, "The DCOI MOOC is an innovative course to strengthen the capacities of stakeholders around the Commonwealth for improving the quality of technology-enabled learning. We are sure this will attract a lot of attention in a post-pandemic world."
Please note: This comprehensive five-week MOOC commences on 8 October 2023.
For more information about the course and registration details, please visit: https://www.dcoimooc.org/
Or download the DCOI MOOC Course Brochure here: https://www.col.org/wp-content/uploads/2023/08/23_TEL_MOOC_October-RF.pdf