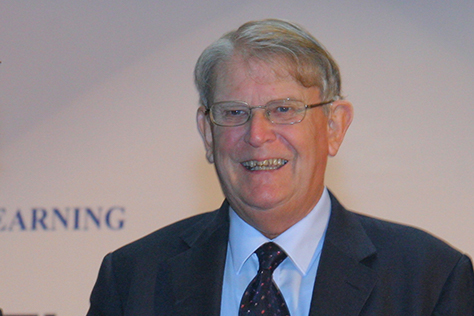 Reading Time:
3
min read
We at COL are deeply saddened to learn of the passing of Roger Mills. Many of us had the privilege of knowing Professor Mills and were left markedly better by the experience. Throughout his 50 year career, Professor Mills demonstrated a dedication to education, teaching, open and distance learning, and most profoundly to the learners themselves. In 2010, Professor Mills was made a COL Honorary Fellow, which afforded us the opportunity to ensure an enduring bond between us and him.
Professor Mill's impact and influence on open and distance learning were felt throughout the Commonwealth and around the world, his work taking him from the Royal Melbourne Institute of Technology in Australia to Bangladesh Open University to the University of Botswana and beyond. A regular consultant to COL, we benefited deeply from his passions for expanding access to higher education through ODL and promoting quality. He further brought this knowledge and experience to the position of Chair of the Programme Committee for the 2008 Pan-Commonwealth Forum on Open Learning. The Forum was held at London University, where Professor Mills had earned a Diploma in Adult Education 30 years earlier and served as a Visiting Fellow in the Centre for Distance Education.
"Professor Mill's contributions to ODL are felt today across many of the Commonwealth's institutions, contributing not only to enhanced experiences for learners, but improved education and opportunities. He was a kind and caring individual who will be missed deeply by many of us both professionally and personally," said Professor Asha Kanwar, President and CEO of COL.
We were fortunate to have captured a video interview with Professor Mills at PCF6, where he discusses his views on open and distance learning: https://youtu.be/SfsxOfvJlPY.