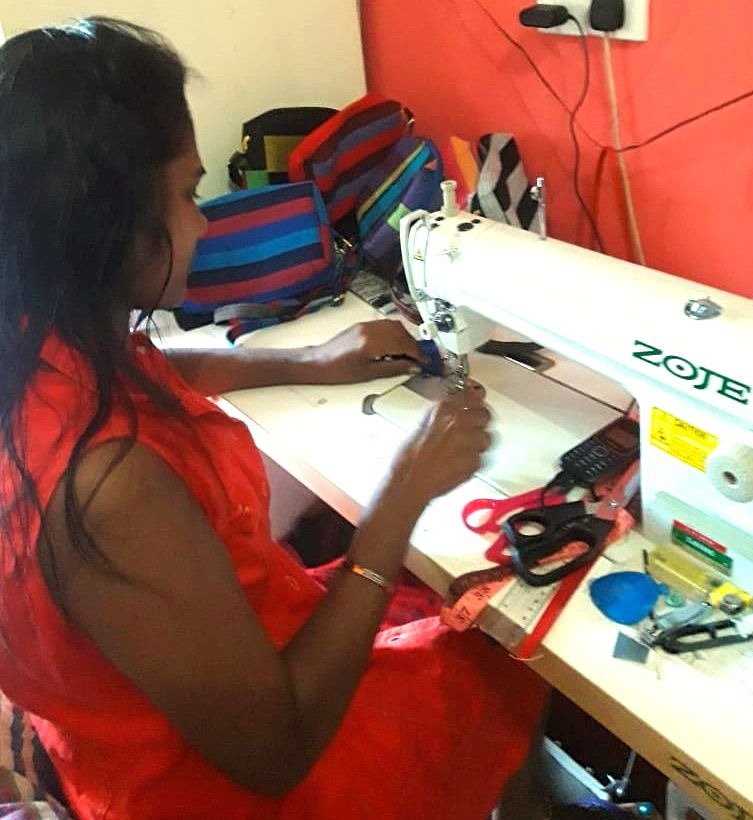 Reading Time:
10
min read
Despite her parents' disapproval, Ruwanthi, at the age of 18, got married to her husband, who was short tempered and abusive.
In order to distract herself from her abusive family life she started a small-scale dress making enterprise, which gave her a sense of strength knowing that she could see a better future for herself. At the age of 26 Ruwanthi gave birth to her daughter. Her husband did not show any signs of changing his abusive behavior and Ruwanthi filed for divorce.
"As a divorced woman I had to face sarcasm and ridicule from various individuals and groups. I felt helpless and alone with no one to seek refuge from. My business didn't do so well, and I became depressed and crawled back into my shell of despair and hopelessness. I was at my lowest point when I was referred to the Women's Development Centre (WDC)."
Ruwanthi sought counselling assistance at WDC where she began to mend her spirit. While receiving counselling Ruwanthi was also encouraged to participate in various self-employment training offered through the organisation. Seeing her potential as an entrepreneur she was given the opportunity to become a member of the Kandy district women entrepreneur's association established under the COL funded Girls inspire project. Her products were accepted by WDC's Sthree social enterprise where she was advised on further improving the quality of her products.
"Participating in these activities strengthened me and I realized that I was not alone; that there were others who had overcome challenges in their lives. I am especially grateful that I could learn a variety of new skills in sewing, up cycling products, mosaic and designing as well. My confidence grew significantly when I began to sell my products. I have become very involved with the entrepreneurs' society and enthusiastically learn through every opportunity that I encountered".
She is now an instructor in bag-making, who trains other women who would not have had the opportunity, if not for the Girls Inspire project. Ruwanthi says:" I come to this group very enthusiastically. I have forgotten most of my problems." She has become a role model to those women and girls who aspire to live a dignified life.
Feedback from WDC (provided by Chandi)
How does WDC's staff feel about girls like her?
WDC Staff who are closely working with Ruwanthi really wanted to encourage her and to see happiness in her face. Sanjika the enterprise promotion officer of COL project was the first contact at WDC to Ruwanthi. The very first day Sanjika talk to her and send her to the professional counselor at WDC. The counselor's feedback was we have to show her different path that she could involve and need to have close relationships as she was under depression and struggling with other issues. Especially as a single mother few men cheated her during this period. So the counselor is looking at her psychological matters while others are helping her to improve economic status.
Sanjika showed her many sample products that she could make and asked her to bring back to WDC officer. Two days after Ruwanthi came back to WDC with 20 cloth bags that can carry in a hand bag just like a small purse and when ever want to use for shopping, with the purpose of encouraging Ruwanthi, Sanjika asked staff at WDC to buy the bags she made as at Rs.100/= and all the bags sold. It was really an encouragement for Ruwanthi. Then slowly linked with her with Sthree handy craft shop and invited her to all the training programs conducted under COL project. She was trained on module development for her to work as an Artisan, and so far conducted two programs by Ruwanthi. At Sthree Ramona (business development consultant) is guiding her on products/ designs and neatness of her products. She also an active members of Kandy district women entrepreneur's association.
So at the WDC different staff members take the certain responsibilities not only about Ruwanthi but also all the women and girls who are coming for services. Just like a chain many services connected for an individual
At the beginning Ruwanthi's products was not quality as WDC expects. Especially those samples she brought could not be able to sale at Sthree handy craft shop. Without discouraging her staff members bought those bags and later explained why we did so.
Gradually she participated for all the trainings conducted. She showed much interested to join with activities implemented under COL project rather going for counseling sessions. And she was able to interact with other women and girls who doing products in quality manner and get ideas from them as well. With the continues guidance from Sthree she was able to improve quality of the products she made but still have not came up to the stranded that other's shows. Any how she was able get orders from Sthree for the ladies purse and side bags she made from cloths. And was able to earn satisfactory sales at the Sthree shop. Many women entrepreneurs are happy whatever amount they get from Sthree as their products goes over seas through foreign customers and upper income customers in locally. According to the Business development consultant at Sthree Ruwanthi's products should have more improvements.
Still she need close counseling sessions as she showed ignorance in her work as well as personal life. But we are happy that the progress she made in her life within nearly a 10 months time and the continues contact with WDC which help her to open about on her issues and for us to help her to over come those issues.
What we realized survivors like Ruwanthi needs some one whom she could trust and closes like a friend who really would desire in seen positive changes in her life. Sanjika and Ramona is the key change agents of Ruwanthi's life.