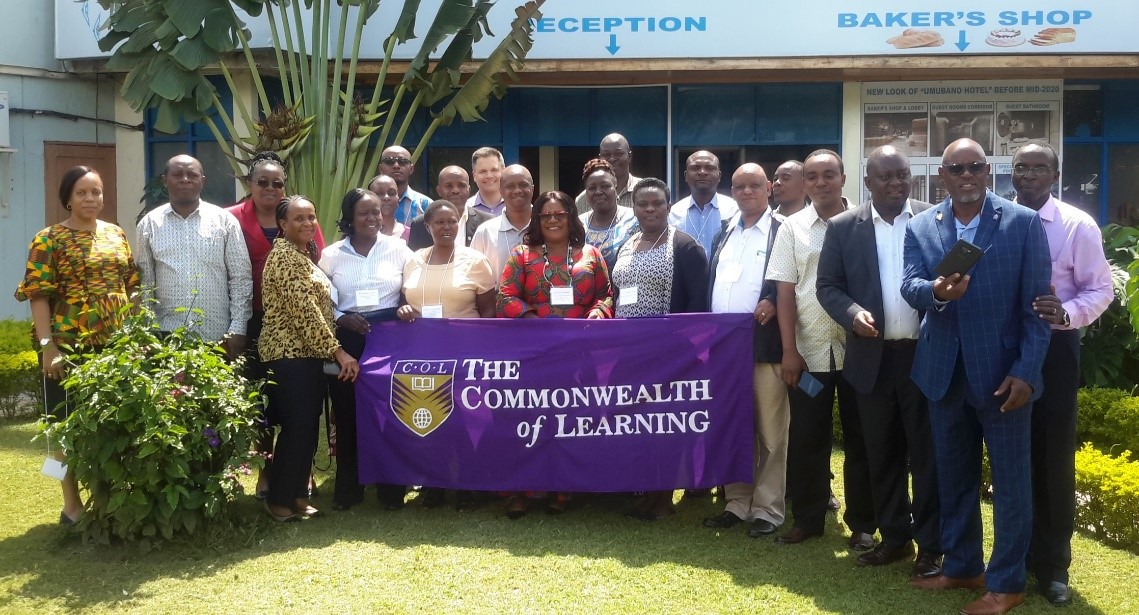 Reading Time:
5
min read
The Southern African Development Community Centre for Distance Education (SADC-CDE), with support from COL, hosted a workshop to sensitise participants to open schooling and introduce COL's Open and Innovative Schooling model in Kigali, Rwanda from 15 to 17 May 2019. Participants hailed from Kenya, Rwanda, Tanzania and Uganda.
The 2018 country file report from the Education and Policy Data Centre indicates that the number of primary and secondary age learners out of school is as high as 17 per cent and 56 per cent, respectively. In each country, the largest proportion of out of school youth were from the poorest quintile of the population. Amidst these challenges, there is a growing interest in viable alternatives that can supplement and complement primary and secondary school education.
COL's Open and Innovative Schooling model is one approach being utilised by a growing number of countries in response to a 'global education crisis' (Education Commission, 2016) with over 300 million out of school children, according to a 2018 report from UNICEF. Tanzania operates an extensive system of approximately 450 open schools, and Kenya has an association of non-formal education institutions. In Rwanda, the Ministry of Education has embarked on an initiative of professional development for teachers that focuses on improving education through digitalisation.
The latest SADC-CDE workshop was an opportunity to engage with prospective partners who work to advance their formal education systems on a national scale. Nineteen participants attended from ministries, universities and other organisations.
Dr Heroldt Murangi, Director of the Namibian College of Open Learning, served as the workshop facilitator and Ms Fancy Amey, Director of SADC-CDE, served as the coordinator. Participants were exposed to case studies of open schooling from Botswana, India and Namibia, as well as to the open schooling online community known as COMOSA (Commonwealth Open Schooling Association). Topics covered the inputs for successful open schools including financing, monitoring and evaluation, teacher training, and the use of open educational resources.
Participants committed to strengthening their action plans for deliberation upon return to their home countries. One Ugandan delegate acknowledged having been unaware of such a schooling model, but now viewed the potential of open schooling as crucial to increasing enrolment in her country where 56 per cent of secondary age learners are out of school, according to the Education Policy and Data Centre.
COL's Education Specialist: Open Schooling, Dr Tony Mays remarked, "The success of SDG4 will be predicated on embracing new ways of thinking about schooling."