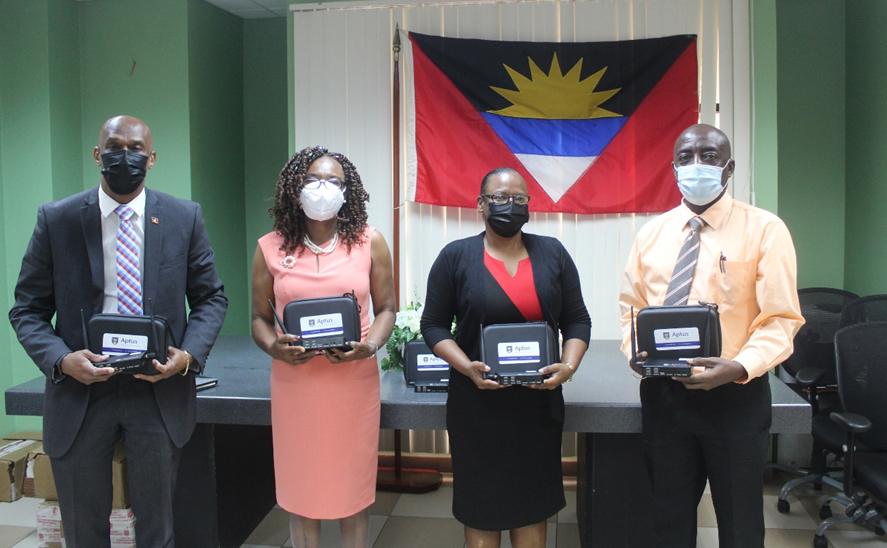 Reading Time:
3
min read
To help minimise the disruption to learning brought about by COVID-19, COL has partnered with the Ministry of Education, Sports and Creative Industries in Antigua and Barbuda to pilot six Aptus devices in schools in Barbuda. Aptus, often described as a classroom without walls, allows students and teachers to access electronic learning resources and applications even when electricity and/or Internet connectivity is unreliable or absent.
At the recent symbolic handing over ceremony, the Director of Education, Mr Clare Browne, said: "We are grateful to COL for partnering with us to improve access for our learners and strengthen the capacity of our teachers to use open educational resources and technologies. This initiative represents the Ministry's thrust to exploring cost-effective, creative and innovative solutions to help bridge the digital and information divide."
Mr Browne noted that through continued collaboration with COL, the Ministry hopes in the future to adopt this alternative solution to support schools in Antigua where Internet challenges persist.
With COL's support, Ministry IT professionals, teachers and other school personnel will benefit from training on how to use, maintain and teach with Aptus.
Dr. Mairette Newman, COL Education Specialist: VUSSC, highlighted the benefit of the devices: "With low-cost, easy-to-use technology solutions such as Aptus, governments can expand access to e-learning and teachers can re-imagine their classrooms and transform their students' learning experience."