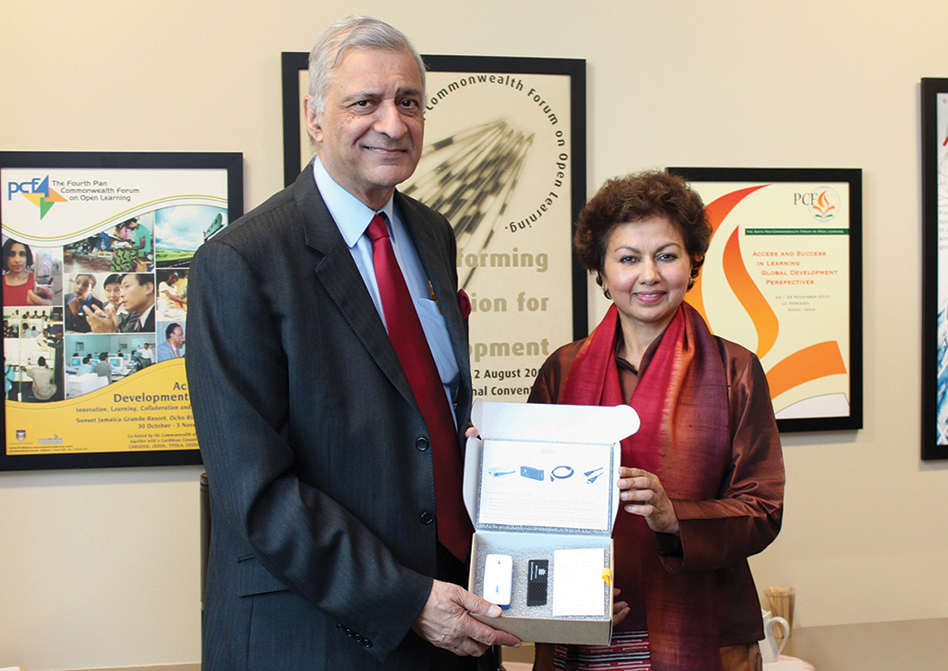 Reading Time:
2
min read
Commonwealth Secretary-General His Excellency Mr. Kamalesh Sharma visited COL's Vancouver offices in September 2013 for strategic discussions. During his visit, Mr. Sharma helped COL to launch Aptus.
This is a device prototype designed by COL that allows educators and learners to connect to digital learning platforms and content without the need for grid electricity or Internet access.
Aptus is mobile, lightweight and packs into a small box, but it carries massive potential. The small setup can host up to 32GB of educational content and facilitate interactive, virtual learning anywhere – whether in a remote rural village or on a vast university campus. The result is a "Classroom Without Walls" that can be set up within minutes and accessed by any learner with a laptop, tablet or mobile device.
Aptus is quickly attracting the attention of educators, institutions and governments who are committed to expanding the reach of modern education but lack the resources and connectivity to do so effectively.
This simple and compact solution is also low cost – all components can be sourced for under US $80 – and built on open-source platforms, making it adaptable and customisable to any learning context.