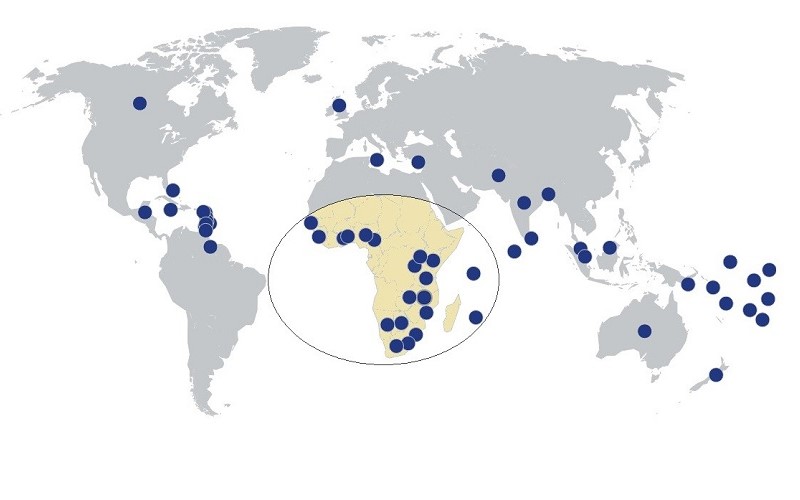 Reading Time:
9
min read
By Dr Evode Mukama
Adviser: Teacher Education, COL
Education is a fundamental right and a powerful tool for socio-economic development, yet it remains a challenge in many sub-Saharan African (SSA) countries. Despite increased access to education since the Education for All movement in 1990, high student numbers and limited resources, including qualified teachers, continue to pose significant barriers. Teachers' status in Sub-Saharan Commonwealth countries (SSCC) provides valuable insights into these challenges. To address this issue, the Commonwealth of Learning (COL) has been leveraging open and distance learning (ODL) methods and resources to increase the number of qualified teachers. This reflection proposes certain solutions based on COL's interventions and experience in the region. The analysis reflects 2021 World Bank indicators on teachers and the latest available data to understand the current situation.
Student-teacher ratios in SSCC
The 2021 World Bank statistics provide insight into the state of education in SSCC. In primary schools, there were close to 95 million students and only 2.7 million teachers, while in secondary schools there were 34 million students and 1.8 million teachers. The average student-teacher ratio was then 35:1 in primary and 18:1 in secondary, which is relatively better than the average of SSA countries' student-teacher ratios, i.e., 37:1 in primary and 20:1 in secondary. However, there were significant disparities between countries regarding student-teacher ratios in SSCC. Malawi and Tanzania had the highest student-teacher ratios in primary schools, with 55:1 and 57:1, respectively, while Mauritius and Seychelles had excellent ratios of 14:1 and 16:1, respectively. At the secondary level, Malawi and Mozambique had the highest student-teacher ratios with 68:1 and 45:1, respectively, while Mauritius and Botswana registered remarkable student-teacher ratios of 11:1 each.
In fact, a lower student-teacher ratio enables teachers to give personalised attention to each student, which can enhance academic performance and address individual learning needs. Additionally, smaller class sizes can create a more engaged and motivated student body and foster a positive learning environment for all educational stakeholders.
Trained teachers in SSCC and implications
The 2021 World Bank statistics reveal significant variations in the percentage of trained teachers across different SSCC. For example, in SSA, the average percentage of trained primary teachers was 86 per cent, but the percentage was as low as 52 per cent in Gabon and 62 per cent in Nigeria. On the other hand, Botswana and Mauritius had a remarkable 100 per cent of trained primary school teachers. Similarly, the average percentage of trained secondary school teachers was 63 per cent in SSA, but the percentage was exceptionally low, at 34 per cent in Togo and 52 per cent in Mauritius. Nonetheless, Botswana and South Africa had a commendable 100 per cent of trained secondary school teachers.
These statistics indicate that SSCC requires urgent attention to address the shortage of qualified teachers both in primary and secondary education. The high student-teacher ratio has implications for the quality of education students receive, as teachers may struggle to provide individual attention to students. Also, limited resources, such as textbooks, learning materials, and ICT equipment, may pose challenges for teachers to provide adequate support.
On the other hand, highly qualified teachers have advanced knowledge and skills in their subject areas, enabling them to provide engaging and meaningful pedagogical support to their students. This can increase their effectiveness as educators and enhance the overall quality of education in the country. Moreover, highly qualified teachers are more likely to feel competent and satisfied in their work, leading to increased teacher retention and a more stable teaching workforce. Finally, a well-educated population can have a positive impact on society by increasing productivity, promoting economic growth and contributing to social and cultural development.
Creating synergy: Lessons learnt from COL experience with teachers
COL has developed a sustainable model to address the shortage of qualified teachers in SSA by leveraging the use of ODL and technology-enabled learning. COL collaborates with universities and colleges to develop quality open courses tailored to the needs of SSA countries and beyond. These courses can be localised and distributed free of charge, and in some cases, where infrastructure and internet connectivity are limited, offline solutions may be used. These include Aptus, an enabler of mobile learning and downloadable learning materials available on OAsis, COL's Open Access Repository.
COL has created several open courses through different platforms to support teacher training and professional development in collaboration with universities and colleges. Any country or institution can adopt and/or adapt courses and possibly offer a joint certificate with COL, including COLCommons, MOOC4D and C-DELTA.
COL is also developing Courses on Climate Change Education for Teachers, which will be available online free of charge.
The SET Project aims to develop Science, Technology, Engineering and Mathematics (STEM) with technology courses (SET). Two courses have already been developed: Teaching Chemistry with Technology and Teaching Mathematics with Technology. Other courses on teaching biology and physics with technologies are under development.
Conclusion
Leveraging ODL methods could be a promising solution to address the shortage of qualified teachers in SSCC and other countries through the adaptation of existing courses. This collaboration between COL and universities and colleges has demonstrated a high potential to increase the number of qualified teachers and help achieve the education goals of 2030.