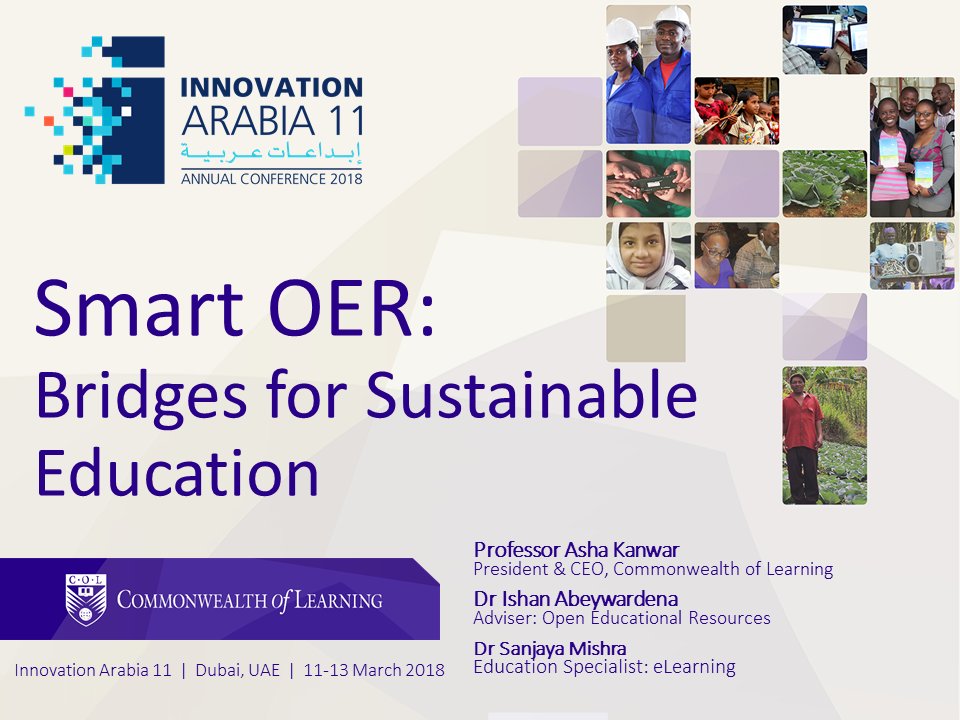 Reading Time:
3
min read
Creative uses of technology will lead to the development of SMART OER, which will contribute to achieving sustainable education for all, COL President and CEO, Professor Asha Kanwar said recently at the Innovation Arabia 11, in Dubai, United Arab Emirates. She stressed in her address titled "Smart OER: Bridges for Sustainable Education," the need for policy development in OER to move beyond commitment to concrete action for achieving education for all.
"Smart OER will foster sustainable education by bridging three major divides: first, bridging the technological divide; second, reaching People with Disabilities; and third, crossing linguistic barriers," said Professor Kanwar. Two examples of how COL has been a pioneer in the use of messaging as a powerful way of engaging learners, especially in flexible and informal segments are highlighted below.
The Lifelong Learning for Farmers (L3F) initiative has used a form of interactive messaging with basic mobile phones to generate measurable economic impact among large numbers of farmers. COL has also successfully explored deploying sophisticated messaging services to offer a massive open online course for gardeners.
COL's Aptus has enabled teachers and students in remote places with low bandwidth access good quality digital OER materials. Through this device, learners can also access the Wikipedia for schools which contain over 6,000 articles.
The full text of this presentation can be found at this link: http://hdl.handle.net/11599/2933