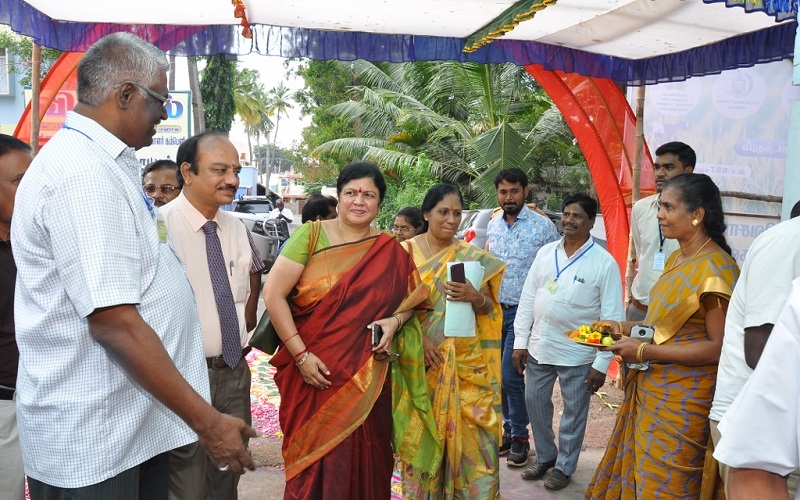 Reading Time:
3
min read
In a recent inauguration ribbon-cutting ceremony, Dr R. Shreenath Reddy, Managing Director of the Andhra Pradesh State Cooperative Bank (APCOB), unveiled the new Micro-Learning Centre (MLC) in the Cooperative Training Centre of Andhra Pradesh State Cooperative Bank (APCOB) in Hyderabad India.
In a collaborative effort between COL, as part of its Lifelong Learning for Farmers (L3F) initiative, and APCOB, the facility is designed to support farmers from Andhra Pradesh state in multiple ways. Among its many features, the MLC is equipped with a studio, meeting room and a boardroom for staff and management. In addition, the facility will offer short forms of concise learning content employing flexible formats, such as voice messaging and video clips, tailored to meet the needs of different groups. Educational media content can now reach tens of thousands of farmers across the state on a daily basis, helping them obtain new skill sets to solve problems they face in their small farms and micro-businesses in real time.
The centre will also be conducting highly focused and structured micro-courses using COL's innovative MOOC  and mobiMOOC platforms to assist farmers with information about pest and disease management in crop production and animal husbandry, among others.
Professor Wale Adekunle, COL Adviser: L3F, commented on the advantages the MLC and COL-designed MOOCs will offer farmers in the region. "Learning, which is directly relevant to farmers' immediate needs and is completed in short, simple lessons, is much easier to understand. It is interactive, and the results will increase farmers' engagement and help create better outputs for livelihoods."