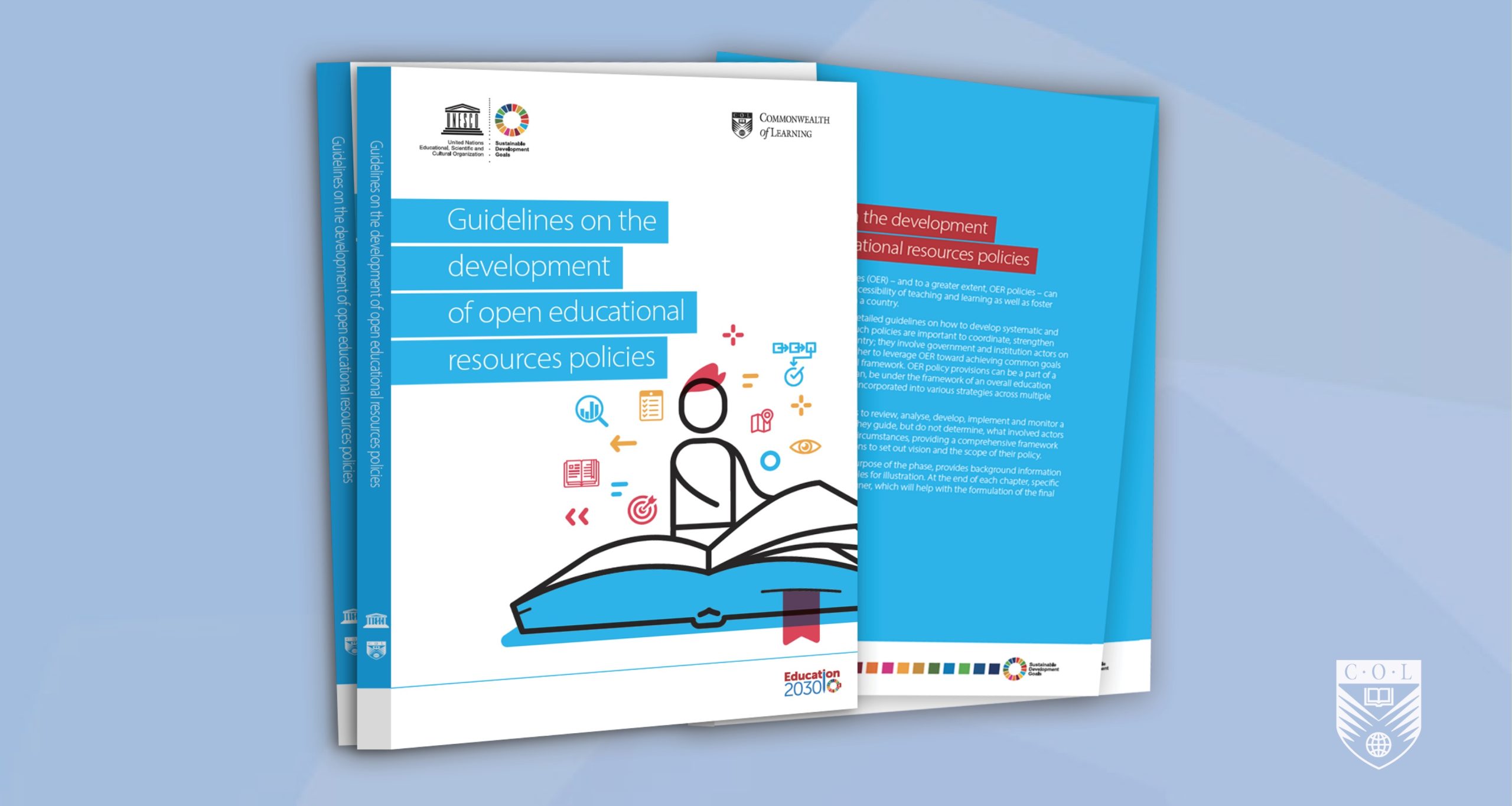 Reading Time:
5
min read
17 October 2019, Burnaby, BC, Canada – In an effort to build the capacities of government officials and educational institutions to develop national and institutional OER policies, COL and UNESCO have released Guidelines on the Development of Open Educational Resource Policies. The new publication provides specific tools to analyse current contexts and policy environments, understand issues related to copyright and licensing and align policy in support of Sustainable Development Goal 4 (SDG4).
"COL is committed to advancing inclusive and equitable quality education and lifelong learning for all by 2030," said COL President and CEO Professor Asha Kanwar. "The new publication will assist Member States and educational institutions not only to develop OER policies but also to measure the impact of their implementation", she further emphasised.
COL became the first intergovernmental organisation to adopt an OER policy in 2011. As a pioneer in technology-enabled learning, COL found OER to be a natural option for promoting access to quality educational resources in the Commonwealth. Over the years, COL and UNESCO have worked closely to advocate for the use and development of OER around the world.
The new guidelines present a systematic process for designing and implementing OER policy in seven chapters, each representing a clear phase in the whole process. They aim to help those directly involved in the design of OER policies to:
Understand essential subject-matter knowledge on OER through a learning-by-doing process;
Develop a set of procedural knowledge on OER policy planning, working through key steps necessary for designing a comprehensive OER policy;
Reinforce the contextual knowledge needed to leverage OER in achieving SDG 4 through assessing the policy context and needs for OER, planning institutionalised programmes and drawing up a contextualised masterplan;
Ensure the commitment to policy adoption and implementation through integrating stakeholder engagement into the policy-planning process and determining adequate policy endorsement and implementation strategies; and
Enhance the quality of policy implementation by planning a mechanism for monitoring and evaluation and working towards an evidence-based policy-planning and updating cycle.
"I hope that the experience shared and the policy approach proposed will help UNESCO Member States transform their education and training systems to more effectively meet SDG4," noted Stefania Giannini, UNESCO's Assistant Director-General for Education, in the foreword to the new publication.
COL will be organising a series of capacity building workshops in collaboration with UNESCO in 2020 using the templates and tools in this publication.
About COL
COL is an intergovernmental organisation headquartered in Burnaby, BC, Canada, with a mission is to help Commonwealth Member States and institutions harness the potential of distance learning and technologies to expand access to education and training and address the educational challenges of today.
Contact
For more information, please contact Dr Sanjaya Mishra, COL's Education Specialist: eLearning by email: smishra[AT]col[DOT]org or phone : 1-604-775-8200
– 30 –