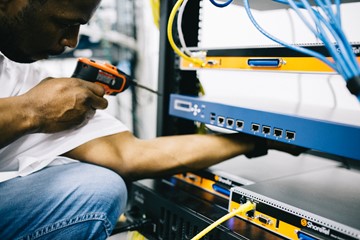 Reading Time:
3
min read
With COL's support, the Caribbean Association of National Training Authorities (CANTA) launched a new programme to enable the continuity of TVET professional development at a distance. The CARICOM Vocational Qualifications Online Training Programme blends training at a distance with mentored practice in workplace settings. Increasing the number of trained assessors, verifiers and instructors across the Caribbean will ensure consistent standards of training and assessment of competency required for work within the region's single market and economy.
"Appropriate technologies can be harnessed to develop innovative solutions that work for everyone," noted COL's President and CEO, Professor Asha Kanwar, at the virtual programme launch. She said that the COVID-19 crisis has spurred creativity to support "the new normal for assessor, verifier and instructor training."
While online course materials had been developed, lack of a learning platform was proving a barrier to offering the courses. COL was able to fill this gap by supporting CANTA to develop a Moodle open-source learning platform. Assistance has been provided with set up and business processes enable CANTA to work across different training agencies for the benefit of the whole region. The first cohort for assessor training on the CANTA platform started earlier this year, with more planned throughout 2021, including first pilots of the verifier and instructor training.
The Hon. Jeffery Lloyd, Minister of Education of The Bahamas, who serves as the Chair of CARICOM Council for Human and Social Development, underscored the importance of the new programme in promoting the development of education through efficient organisation of vocational education and training facilities in the Community. Courses such as this, he said at the virtual launch, "provide a critical route to assist with setting a pathway for citizens to engage in lifelong learning and continuous acquisition of life skills."