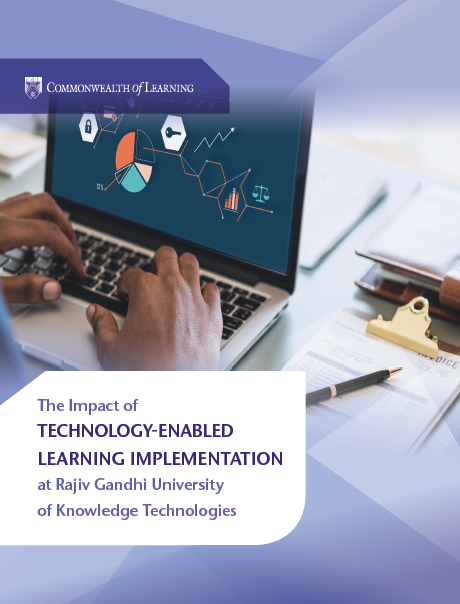 Reading Time:
5
min read
A COL study at the Rajiv Gandhi University of Knowledge Technologies (RGUKT), India found that student engagement (time spent and activities online) in blended courses resulted in improved achievement in terms of scores in semester examination. The study was conducted amongst the 2,472 students who took 18 blended courses developed with the support of COL.
The study conducted by Dr Indira Koneru of IBS Business School, Hyderabad revealed that 95 percent of respondents had a positive perception of the overall course experience. 91.16 percent of the respondents agreed that information technology helped them to learn; 86.27 percent felt that multimedia resources on the learning management system enriched their learning experience; 83.45 percent accepted that communicating online with students and faculty improved their learning; 81.42 percent agreed that blended learning improved their time management skills; 84.8 percent felt that blended learning improved their digital literacy; 82.16 percent agreed that blended learning improved their performance in mid-semester examinations; and 85.21 percent were satisfied with the use of the Moodle mobile app for viewing/reading learning resources, interacting with faculty and peers in forums, and submitting assignments and quizzes.
Student achievement increased significantly in 50 percent of the courses offered in blended mode, in comparison to the score of learners in the previous batch offered only through face-to-face. Dr Koneru said the blended courses where student achievement did not improve had several limitations in the course design and delivery such as the "use of only text-based learning resources, fewer activities and low or no moderation of discussion forums." The study also found a strong relationship between the number of online assignments and students' grades.
RGUKT provides a laptop to every student enroled in the university, and it was obvious that 96.1 percent of the respondents rated their digital literacy skills 'excellent' to 'good.' However, the study also indicated a small difference in the digital literacy of male and female learning, though not significant. Teachers who were engaged in blended delivery of courses acknowledged that engaging students in identifying course-relevant OER widened their domain and interdisciplinary knowledge and enriched multimedia learning experiences. Over 30 percent of faculty also expressed that finding course-relevant OER in their native language and context was a challenge.
Dr. Sanjaya Mishra, Education Specialist: eLearning, COL said, "The study is part of a series of interventions COL made at RGUKT to improve the quality of teaching and learning through TEL implementation. During the last two years, COL conducted five capacity-building workshops for faculty and staff, developed a TEL policy, and supported installation of a learning management system and an open access repository. The capacities developed at RGUKT needs to be internalised to offer more courses using the blended approach."
The full report can be downloaded at http://oasis.col.org/handle/11599/3119