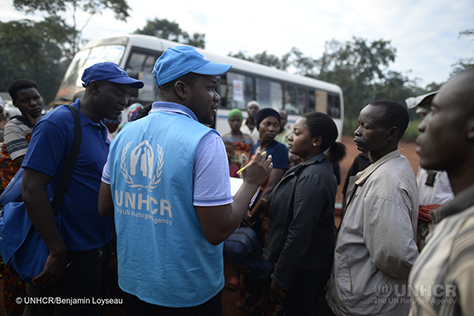 Reading Time:
4
min read
The sound of gunfire, shells exploding nearby in the night, an urgent change of location, armoured vehicles and flak jackets, blackout curtains and no power: these are all part of the reality faced by distance learners working in emergency and conflict zones. Their work brings them to the heart of human struggles and hardship. COL's work supporting them as distance learners brings heart to the role of e-coaching.
COL helps to support distance learners in emergency and conflict zones through eLearning for International Organisations (eLIO). The programme specializes in providing the human touch in its course offerings and has a cadre of more than 50 e-coaches who have worked with over 8,500 learners in 160 countries to offer individualised and customised support.
An example is a nine-month online program management course delivered for the UN Refugee Agency (UNHCR), which culminated in a five-day face-to-face workshop. Catherine Dunlop, an eLIO e-coach, had the opportunity to attend the workshop, meet the learners and hear their stories. Over and over, they emphasised that the support and encouragement of their e-coach was instrumental in motivating them to keep going and make the most of the course.
Three key themes emerged when supporting distance learners in emergency and conflict zones:
E-coaching is more than sending reminders and doing marking; it is about connecting with individual learners and understanding their unique context.
Deadlines sometimes need to be "lifelines"; a flexible approach will help learners to pull through a difficult patch when a rigid approach would leave the learner behind.
E-coaching with heart includes empathy; it helps to "be there" with the learner, no matter how far away they are, to celebrate and commiserate while they work at the heart of difficult struggles.
"Millions of lives are touched by the work of these distance learners in emergency and conflict zones. As e-coaches with eLIO, we are committed to the human-to-human connection with learners so that many more people can benefit from their important work," said Dunlop.