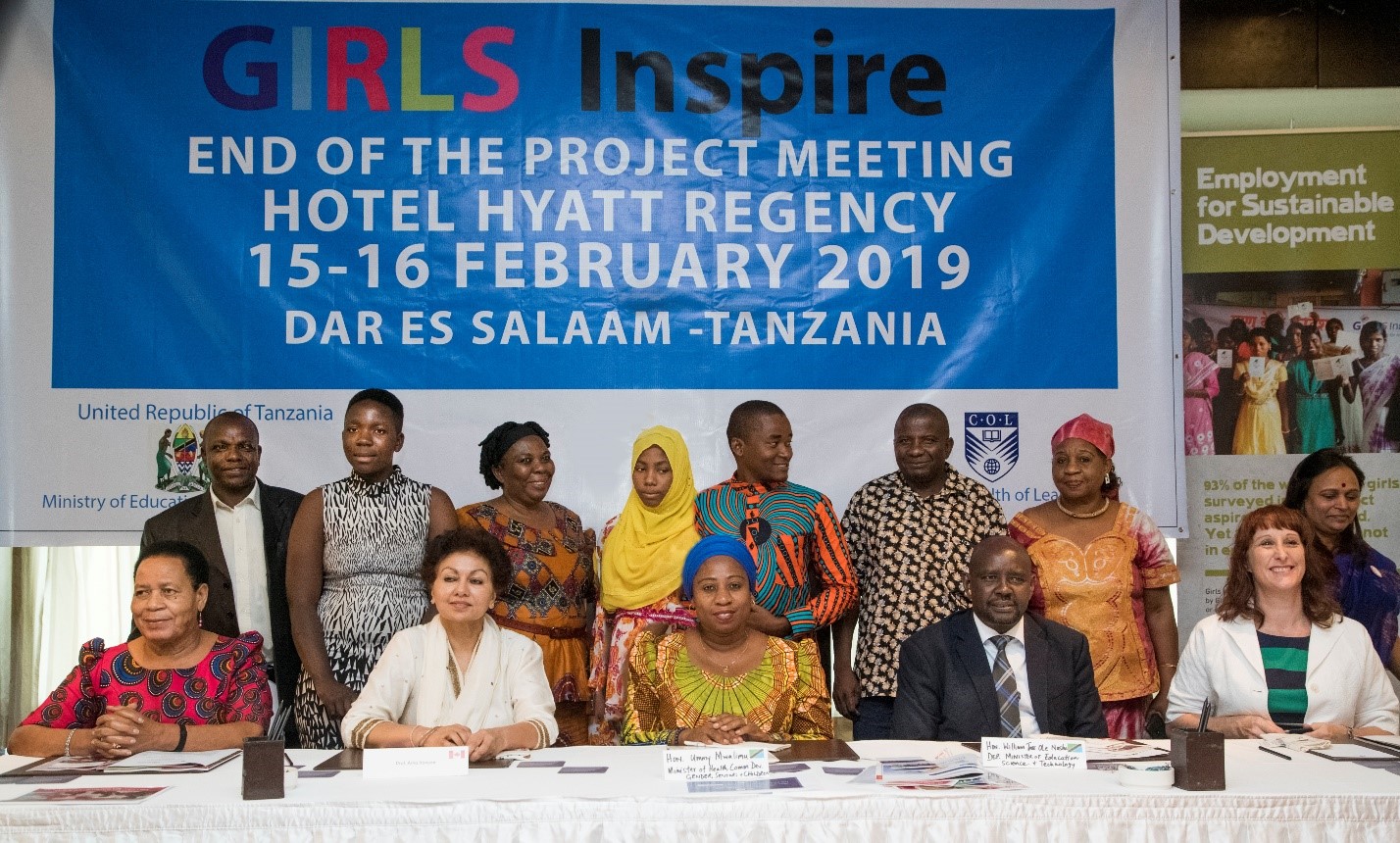 Reading Time:
4
min read
COL in collaboration with the Minister of Education, Science and Technology in Tanzania, co-hosted the GIRLS Inspire End of Project meeting for preventing Child, Early and Forced Marriages (CEFM) from 15-16 February 2019. The outcomes of the project and lessons learned were shared, along with a road map on how to engage policymakers and partners to integrate this initiative into national programmes for preparing women and girls for employment and entrepreneurship.
Attendees from Tanzania included the Honourable Ummy Ally Mwalimu, Minister for Health, Community Development, Gender, Seniors and Children, the Honourable William Tate Ole Nasha, Deputy Minister of Education, Science and Technology, parliamentarians, and local partners. Also in attendance were Members of the National Assembly from Pakistan Dr Nousheen Hamid and from Mozambique Ms Marengue Da Cruz, the High Commissioner of Canada to Tanzania, GIRLS Inspire partners from Bangladesh, India, Mozambique and Pakistan as well as representatives from the Ministries of Gender from Kenya, Malawi, Nigeria and Sri Lanka. The President and CEO, Professor Asha Kanwar and Senior Adviser: Women and Girls, Ms Frances J. Ferreira represented COL.
Professor Kanwar stressed in her keynote speech the importance of a holistic approach that brings together key stakeholders within the community to support girls' learning for sustainable livelihoods as the critical success factor.
The High Commissioner, Her Excellency Ms Pamela O'Donnell congratulated COL and all stakeholders for delivering tremendous results though the GIRLS Inspire project, while acknowledging that there is still more to be done in ending CEFM in the country. "It's essential that there is a connection between the legislative framework, policy formulation and programming to empower women and girls; protect those who have already been married and are now separated or divorced; and advocate an end to the practice of CEFM," stated Ms O'Donnell.
GIRLS Inspire encompasses two projects supported with funding from the Government of Canada and the Government of Australia to end the cycle of CEFM and reach the unreached and most vulnerable women and girls in Bangladesh, India, Mozambique, Pakistan and Tanzania, by partnering with community organisations and leveraging COL's expertise in open and distance learning to provide schooling and skills development.