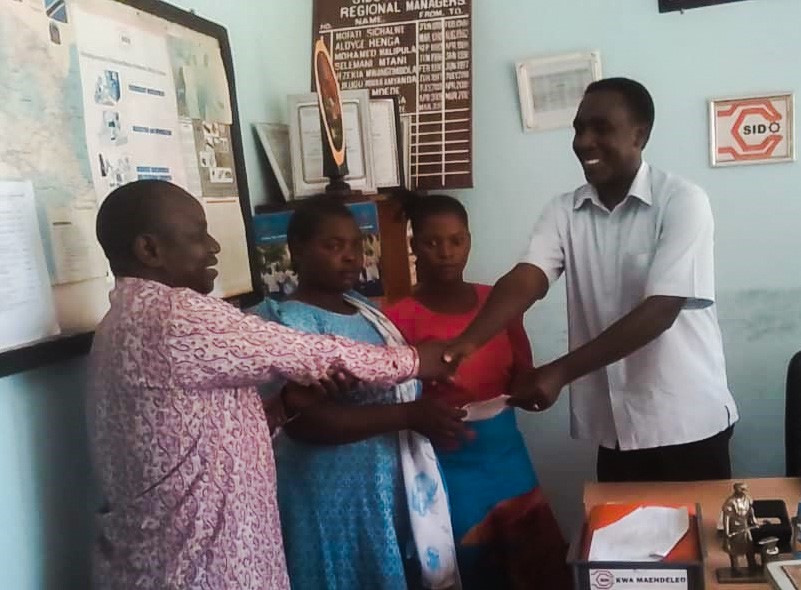 Reading Time:
3
min read
COL's GIRLS Inspire project partner Institute of Adult Education (IAE) recently introduced the Msanzi CEFM Women's Group in Sumbawanga, Tanzania, to microfinancing opportunities to empower them become entrepreneurs. On September 4, 2018, the Rukwa Regional Manager of Small Industries Development Organisation (SIDO), Mr Emmanuel Makere presented a soft loan to the group. The women plan to use this loan to launch their small business in producing soap and batik fabrics.
COL's Senior Adviser: Women and Girls, Ms Frances Ferreira said: "The GIRLS Inspire project trains women in financial literacy, life skills and vocational training – even after the training, we continue to provide them with opportunities to apply their skills in improving their livelihoods."
In partnership with IAE, the GIRLS Inspire project reintegrates women and girls into education through open, distance and technology-based education to prevent child, early and forced marriage (CEFM) in Tanzania. Over 2,700 women and girls have registered for schooling and skills training with IAE. The prevalence of CEFM is between 40-51% in the Rukwa, Dodoma and Lindi regions of Tanzania. Ending CEFM is crucial to Tanzania achieving eight of the Sustainable Development Goals (SDGs).
PICTURED ABOVE: The SIDO Rukwa Regional Manager, Mr Emmanuel Makere presenting a soft loan to the Msanzi CEFM Women's Group represented by the IAE Resident Tutor, Rukwa region, Mr Danken Kipeta, the Group Chairperson, Ms Rodasia Kasingilima (second Right) and Group Secretary, Ms Sofia Lupia.