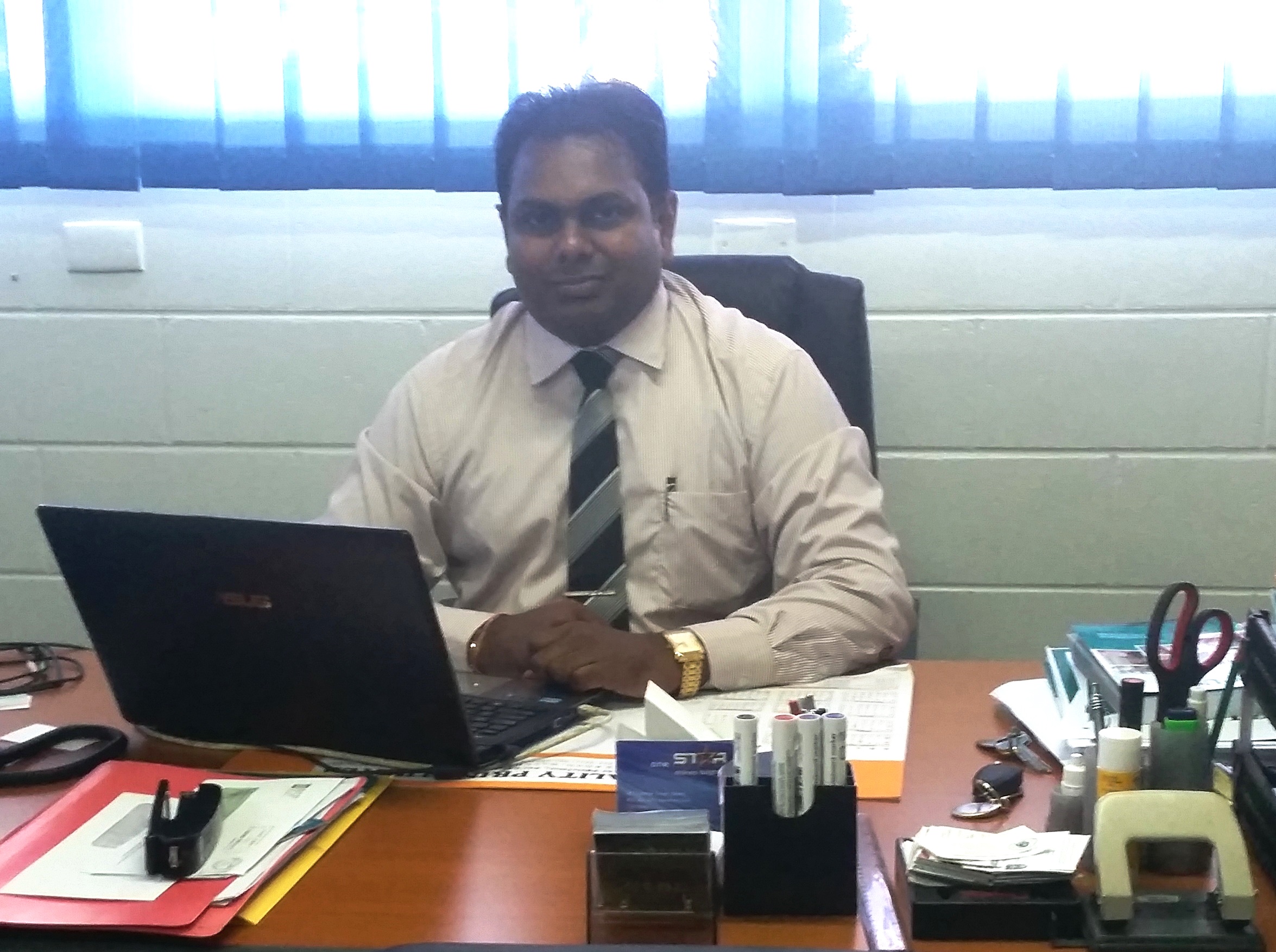 Reading Time:
6
min read
"By being a complete distance and flexible learning product, I developed deep passion to promote flexible learning which can transform lives as it has done mine. My motivation to lead Pacific Centre for Flexible and Open Learning for Development (PACFOLD) originates from my learning experience"

Hasmukh Lal, current Director of Pacific Technical and Further Education (TAFE) at the University of the South Pacific (USP) in Suva, Fiji
When Hasmukh Lal enrolled in Bachelor of Education (Primary) at USP Lautoka Campus, he probably had not comprehended how studying through Distance & Flexible Learning (DFL) would change his career and life.
Primary & Secondary Education
Hasmukh grew up in Waiqele, Labasa and attended the village primary and junior secondary school before moving up to Labasa College to complete his senior secondary education. While he had always wished to pursue his tertiary education at USP, circumstances led him to studying Certificate in Primary Teaching at the then Lautoka Teachers' College.
First Employment
Beginning his career in primary teaching, Hasmukh started at a village primary school in Sigatoka. Continuing with primary teaching, he remained obligated towards his parents, who enjoyed and preferred to live in a village setup. However, his passion for higher education remained very much intact.
Further Studies
Taking advantage of DFL at USP Lautoka, Hasmukh enrolled in Bachelor of Education (B.Ed.) (Primary). Despite the challenges of teaching responsibilities, family and community engagement, Hasmukh, with his enthusiasm and robustness not only completed the B.Ed. Primary, but also successfully graduated with Post Graduate Diploma in Education and Masters in Education from USP through DFL mode. All of these academic accolades he accomplished while teaching and living in the Western Division of Fiji.
New Employment Opportunities
With an upgraded qualification, he got selected to coordinate a Leadership and Management project for Ministry of Education that was funded through AusAID. This project earned him enough coordination experience to successfully compete for the post of Coordinator, Continuing & Community Education at USP Lautoka in 2009. In 2011, he successfully contended for the post of Manager, Continuing & Community Education at USP Lautoka. With higher qualifications, work experience and exceptional performance, Hasmukh got selected as the Manager, Regional Centre for Continuing and Community Education (RCCCE) at USP Laucala Campus in Suva in 2013. With strategic leadership and vision, Hasmukh transformed RCCCE into Pacific TAFE which offers senate approved qualifications, including some internationally accredited programs. With this transformation, his post got renamed as Director.
DFL Transforms Career and Life
"I must sincerely attribute my professional achievements to distance & flexible learning that I got from Lautoka Campus"

Hasmukh Lal
DFL transformed Hasmukh's career from a primary school teacher to a tertiary level TAFE Director. With changes in career, his life also dramatically changed from the compounds of primary schools to the university level round table discussions and international travels and negotiations.
Story By Pramila Devi
University of the South Pacific
Lautoka Campus Director