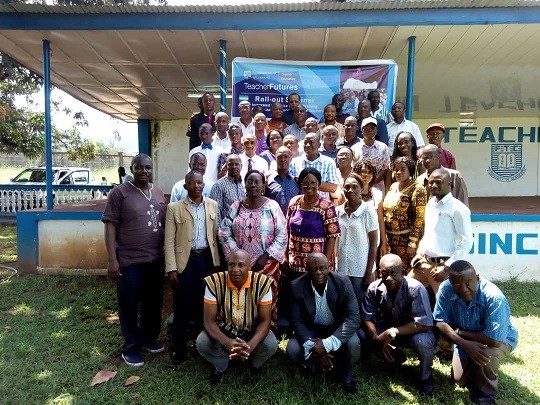 Reading Time:
3
min read
COL's partner, Freetown Teachers College (FTC), conducted a workshop to roll out the Integrated In-service Teacher Training (INSET) programme from 15 – 19 October 2018 at the FTC Campus in Freetown, Sierra Leone. The aim of the workshop was to introduce participants to the programme resources as well as give an orientation to the implementation plan for school-based collaborative learning among teachers.
Welcoming participants to the event, FTC's Vice Principal, Mr Mohamed Peeps Kallon, stressed that the INSET programme supported by COL was aimed at using technology to promote teacher development for quality teaching and improved learning outcomes in the junior secondary schools. The Principal, Dr Samba Moriba, observed that the school principals and champions would be the ambassadors of the INSET programme in their respective schools by sharing the skills and knowledge acquired with others.
COL's Adviser: Teacher Education, Dr Betty Ogange, said, "The focus is on improving the capacity of FTC to develop and offer school-based training opportunities for serving teachers using technology, as well as stimulate peer collaboration in teacher communities. We look forward to working with all stakeholders to make this a success."
The workshop was attended by 45 participants from FTC as well as school principals and champions from 12 junior secondary schools in Freetown and Kono. Among the participants was the Principal of Koidu Girls Junior Secondary School, Kono, Mrs Bernadette M. Turay, who said, "In this seminar, we have learnt a lot pertaining to in-service teacher development through e-learning. When we go back to our schools, we will bring our teachers on board."
Photo: Participants at the launch of the programme at FTC.