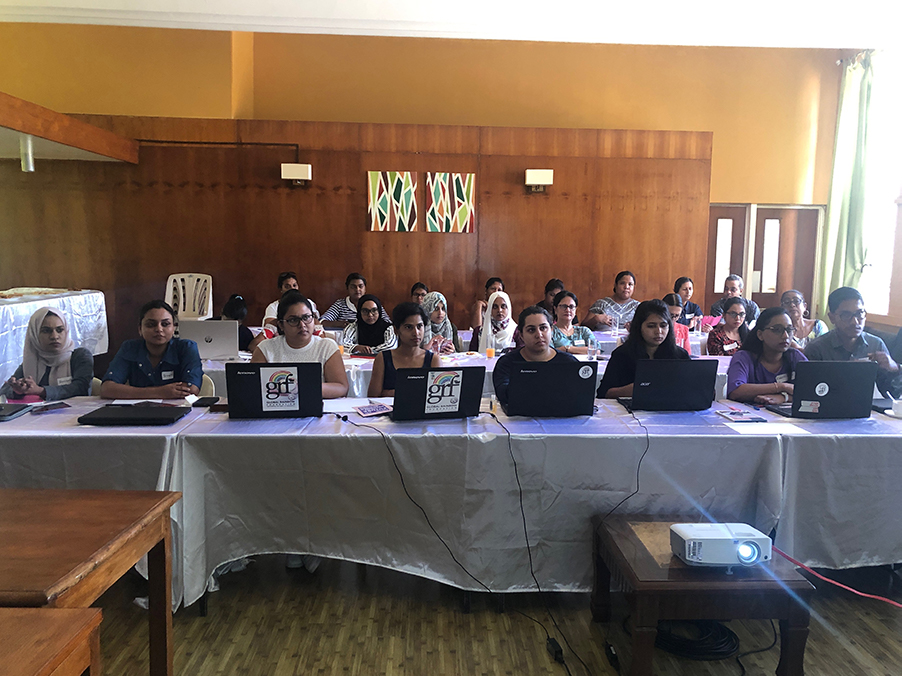 Reading Time:
4
min read
In response to concerns about the absence of an inclusive space for the community of persons with disabilities (PWD) to participate in national and economic upliftment, as well as political and public life, COL has launched a project in Mauritius in partnership with Global Rainbow Foundation (GRF). The aim is to leverage the potential of technology-enabled learning to build capacity among practitioners and members of the PWD community, and raise awareness among companies, government organisations and the private sector about inclusion of PWD in the workplace.
During a project workshop held 18-22 November 2019, Diversity and Ability (DnA), who were contracted by COL, conducted needs assessments and stakeholder consultations among members of the PWD community, practitioners who work with them and other stakeholders. DnA trained GRF staff in needs assessment and assistive technologies.
Atif Choudhury, DnA's Chief Executive, led the project workshop. "Our focus was on Mauritius's journey towards the 2030 sustainable development goals," he noted in a video address.
The workshop guided GRF in identifying priority groups that need access to education and training and their specific challenges, along with the knowledge, skills and training required by PWDs and practitioners who support them.
"It was an important shift in mindset from disabled people to disabling environment; if we, as a training institution fail to address the training needs of people with special needs, we are failing the society," said Mrs Rubina Rampersad of the University of Mauritius, who attended the workshop.
In the framework of the project, COL will facilitate the design, development and implementation of training modules for practitioners, teachers and PWD themselves, along with the design and development of self-instructional online sensitisation courses.
COL's Education Specialist: VUSSC Dr Mairette Newman, who is leading the project, noted: "With 80 per cent of people with disabilities living in the Global South, COL is committed to leveraging technology to improve access to quality learning. Technology can facilitate learning and reduce barriers to instruction thus allowing persons with disabilities to more fully participate in education, the workforce and society generally."