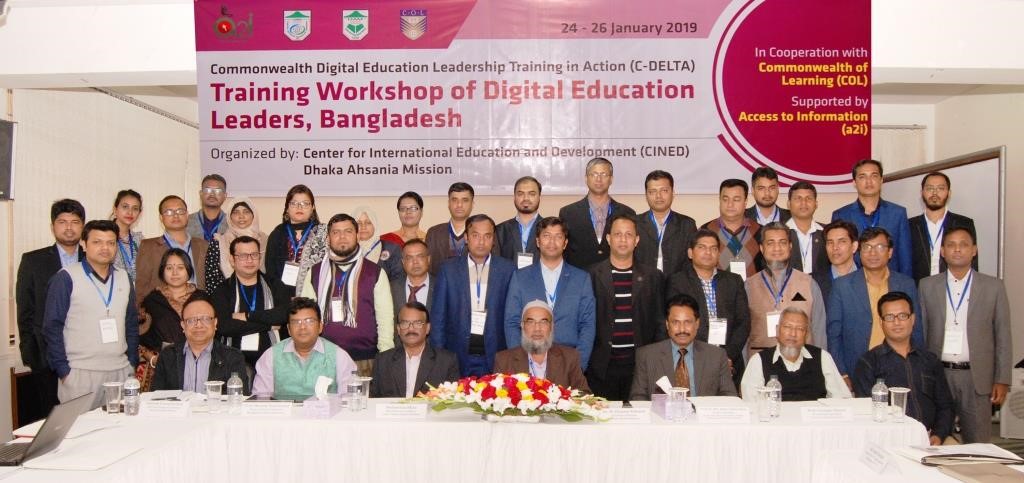 Reading Time:
3
min read
In cooperation with COL, the Center for International Education and Development of Dhaka Ahsania Mission (DAM), organised a workshop from 24-26 January 2019, to train 30 teachers from colleges across Bangladesh to use COL's Commonwealth Digital Education Leadership Training in Action (C-DELTA) platform. The workshop was also attended by government officials and representatives from Access 2 Information (a2i).
During the interactive and online-practice based workshop, the teachers developed an action plan for implementing C-DELTA in their institutions over the next three months to promote digital education skills amongst teachers and students, and to strengthen lifelong learning.
Inaugurating the workshop, Project Director of ICT for Education in Secondary and Higher Secondary Level Project in Bangladesh , Prof Dr Md. Abdus Sabur Khan said "In the age of information technology, all of us are required to be familiar with rapidly changing technologies particularly in an Ed-Tech environment." He further thanked COL for this initiative and said that, "C-DELTA training will help teachers to develop their digital education skills as well as enhance digital literacy in Bangladesh."
Dr. Sanjaya Mishra, Education Specialist: eLearning at COL while appreciating the efforts of DAM to implement C-DELTA in Bangladesh stated that "the digital education skills go beyond digital literacy and will strengthen the vision of Digital Bangladesh 2021 by building the capacity of teachers and students to be a lifelong learner in the digital environment".