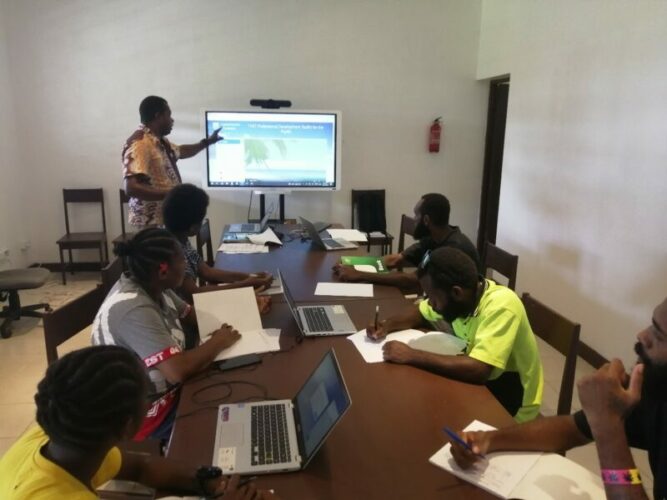 Reading Time:
4
min read
COL is supporting technical and vocational education training (TVET) practitioners aimed at nine Commonwealth countries in the Pacific to continuously acquire professional development skills by way of the online Pacific TVET Professional Development Toolkit for youth employment. The Toolkit was developed with funding provided by the Ministry of Foreign Affairs and Trade (MFAT) of New Zealand for a project titled 'Open, Distance and Flexible Learning'. To date,  five partner institutions are implementing continuous development projects using the Toolkit.
In Tonga, TVET trainers at Montfort Technical Institute are using these resources to plan for competence-based assessments. The Director, Dr Jim Madavana, stated that "the teachers were able to use resources available in the Toolkit to draw questions and prepare answer keys – a genuine benefit of COL capacity building."
In Fiji, Pacific Polytech trainers are using the Toolkit as they develop descriptors for 13 micro-courses related to construction. The project coordinator, Mr Peni Taoi, said, "I met this construction worker at a worksite …great experience listening, observing and writing various processes involved in building foundation using guidelines from the Toolkit." Information gathered from the linkage with industry was used by the trainers, as well.
Lecturers at the University of Samoa are using resources in the Toolkit as they develop a learner's course manual on how to grow and maintain plants in containers from seeds for a horticulture botany course, to be available online for distance learning students.
Staff at the Ituani Vocational Skills Centre in Vanuatu are implementing a project aimed at enhancing trainers' knowledge and skills through the Toolkit. The activities covered include competency-based assessment, designing and developing open educational resources, providing skills training using blended learning approaches, building and strengthening relationships with industries and promoting TVET as a pathway for all learners.
In summary, Mr Robert Okinda, COL's Adviser: Skills, added "Continuing professional development (CPD) in TVET has mainly been dependent on structured, facilitator-led sessions. TVET practitioners in the Pacific are embracing the use of the Toolkit which is designed as a resource base for CPD in formal and non-formal training, in-service training and pre-service training that is premised on the principles of heutagogy and andragogy for lifelong learning and sustainable livelihood."