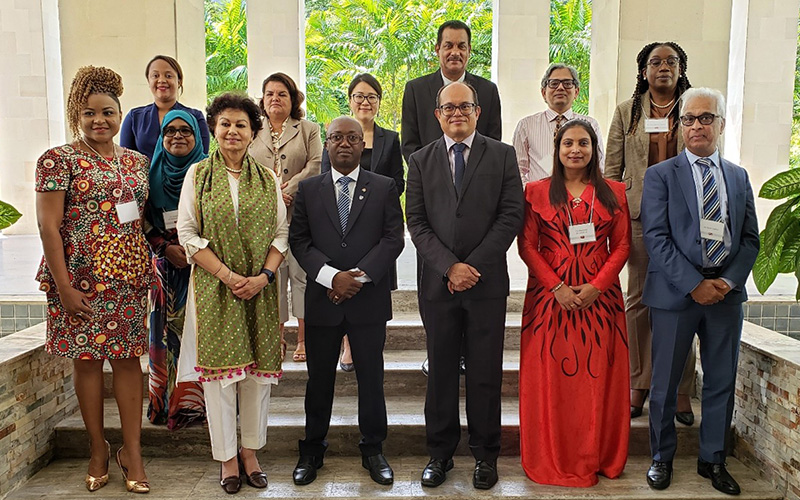 Reading Time:
4
min read
The third and final meeting of the high-level panel on climate change and education convened by COL was held on 23 May 2022 in Seychelles to review a report, "Recommendations to Commonwealth Ministers of Education to Transform Education for Climate Change" and make recommendations for policy makers in the education sector across the Commonwealth. This panel was set up by COL to develop an agenda for action to address how distance learning and technologies can foster environmental conservation.
The participants included the education ministers of Maldives, Seychelles, and Trinidad and Tobago, the Deputy Secretary General of Commonwealth Secretariat, a representative from UNESCO, Seychelles' minister of agriculture and other senior officials from Seychelles and Trinidad and Tobago. Dr Rolph Payet, the executive secretary of Basel, Rotterdam and Stockholm Conventions and former minister of environment and energy, Seychelles, served as the chair.
Panel members appreciated the high quality of the draft report and provided inputs towards finalization of the document. They shared key dissemination strategies and insights on mainstreaming climate change education. One of the panel members observed that the report shed light on issues and approaches that have implications for building climate-resilient education systems.
Key recommendations from the panel included:
Considering climate change education through a wholistic government lens.
Building climate-proof infrastructure for education.
De-carbonizing education system, including use of distance and online learning.
Building skills for jobs in the green and blue economies.
Building capacities and developing appropriate policies for climate resilience, and
Mobilising funds for better climate education.
Professor Asha Kanwar highlighted the opportunities that the report will create for further discussion at national levels to develop context specific approaches and actions. She expressed her hope that the roadmap provided by the report would be useful in advancing a green learning agenda. The report will be shared with the ministers of education across the Commonwealth.
COL works with partners around the Commonwealth to create policies and processes that enhance the capacity of governments and institutions.