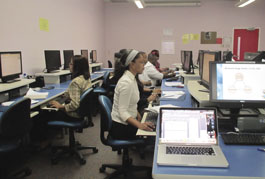 Reading Time:
2
min read
In August, the University of the West Indies' School of Business and Applied Studies Limited (ROYTEC) signed a memorandum of understanding for a partnership with the Virtual University for Small States of the Commonwealth (VUSSC). In doing so, ROYTEC has agreed to embrace OER as an operating strategy.
COL has facilitated training workshops on the open-source Moodle Learning Management System, including how to employ the system for content deployment, course design and delivery. Other training sessions have introduced the benefits of OER and guidance and of developing an OER policy.
ROYTEC's first VUSSC offering will be a locally adapted version of the Bachelor in Business and Entrepreneurship.