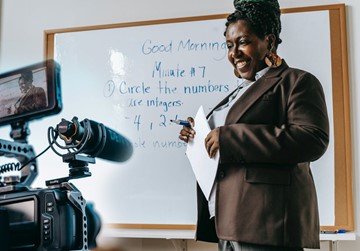 Reading Time:
3
min read
COL has been assisting Kenya to ensure learning continuity in the face of COVID-19 by using video-based educational content. A collaboration with ElimuTV has resulted in more than 10,000 views of relevant content in just four weeks. Accessible in multiple ways, including via mobile devices, content typically focusses on one curriculum topic at a time, and combines digital text, graphics, audio and video.
The cost of printing and distributing physical copies of educational resources has been a significant barrier for learning during schooling disruptions. Open, distance and flexible learning offers a viable alternative to ensure continuous access to education, especially for students who are most vulnerable to lagging behind or dropping out.
Out-of-school youth can use these bite-sized, curriculum based digital lessons independently to prepare for national examinations, while day-school teachers can use them to support flipped classroom or blended learning approaches.
COL is currently exploring ways to support scaffolded engagement with these resources over the coming months.
Dr Tony Mays, COL's Education Specialist: Open Schooling, noted: "We will use feedback from learners and teachers to improve the content already shared, identify and address curriculum gaps, and augment the resources for topics which learners find particularly difficult. This will help us to understand better the role that curriculum-based video lessons like this could play in building more resilient schooling systems for the future."