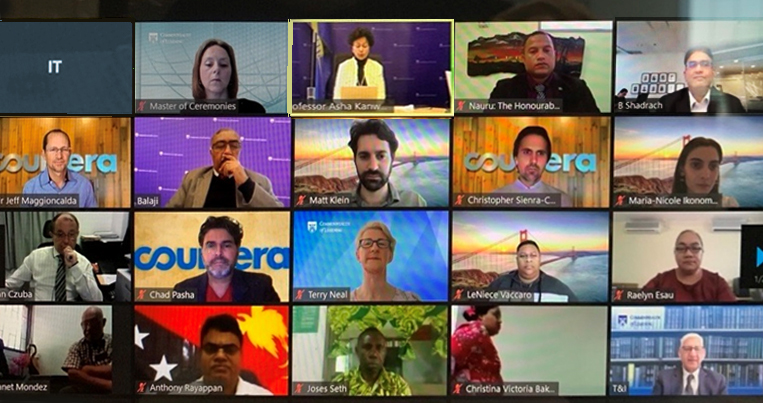 Reading Time:
3
min read
While COVID-19 has affected the lives and livelihoods of individuals across the Commonwealth and beyond, it has also generated a momentum for self-directed learning laying the foundations for achieving sustainable lifelong learning. This was one of the key messages given at the virtual convocation which celebrated the achievements of 127 learners from the Pacific who had earned certificates through the COL-Coursera Workforce Recovery Initiative.
On 17 March, over 200 learners were joined by Professor Asha Kanwar, COL President and CEO, Hon Richard-Hyde Menke, Deputy Minister of Education, Nauru, and Mr Jeff Maggioncalda, CEO of Coursera.
In her address, Professor Asha Kanwar spoke about the importance of building education systems prepared for various challenges. "Investment in human resource development and the empowerment of our people are the foundation of robust and resilient societies," she said.
Through this initiative, learners gained free and unlimited access to some 5,000 courses offered by 150 top universities and 50 industry leaders, honing their employability skills in the face of the pandemic.
"Upskilling and reskilling can lead citizens to new opportunities, helping workers cross over to new sectors or gain skills that can make them employable in larger international job markets," said Mr Maggioncalda.
Calling the Initiative "a lifeline" for those affected by the pandemic, Hon. Menke said it has contributed to Nauru's aspirations of achieving inclusive and equitable access to quality education for all.
For more details, please watch this video, celebrating the achievements of learners from the Pacific.