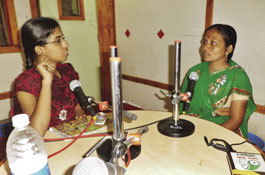 Reading Time:
4
min read
Ms. Anita Kumbhar hails from a severely drought-prone area of Western India, Mhaswad. For the last 15 years, her family has struggled with infertile land coupled with inadequate rain. Their survival often depended on the small pottery operation her husband ran. Their dream of education for their children was put on hold. Anita wasn't keen to join their traditional occupation, as she knew this would limit the scope for additional income for the family. She found answers through COL's Lifelong Learning for Farmers (L3F) initiative.
She came across the Mann Deshi Foundation's L3F-supported community radio learning programme (CRLP) accidentally. But then she became a regular listener and enrolled in a goat-rearing programme under the L3F initiative.
She loved when questions were asked on what they had learned from the previous sessions. She then enrolled in the financial literacy CRLP. This helped her increase her savings from INR 20 to INR 50 a day. Then she took out a loan to buy two goats and continued to develop her entrepreneurial skills through further CRLPs.
Anita Kumbhar speaking on community radio, Western India.
Apart from selling the milk, Anita also started breeding goats and selling the kids – earning INR 40,000 annually.
The success made her ambitious and she contacted the CRLP team for further help.
Anita asked, "How do we use our degraded land?" Mann Deshi's L3F team suggested that she share her question on community radio and seek help. Agriculture experts from nearby areas came forward and guided Anita.
Last year, Mhaswad had one of the worst summers in years, but Anita decided to grow white millet. She harvested two tonnes of crop and earned INR 20,000 from green fodder.
Anita completed Enterprise Management through CRLP and assisted her husband to manage and grow his business as well. Their income has doubled to INR 60,000 annually. Anita is a trusted peer in Mhaswad. Her seven neighbours have joined the L3F programme. She continues to inspire many women from her community and she helps form learner groups.
Her biggest satisfaction? Her children are now pursuing higher education. Anita says, "We don't need more, as long as my sons and daughter can get the education they want."