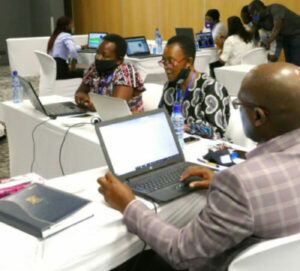 Developed in collaboration with four open universities in Asia in 2002, the Commonwealth Executive Master of Business Administration (CEMBA) / Commonwealth Executive Master Public Administration (CEMPA) Programme is now being offered by partner institutions in Asia, Africa and the Caribbean.
The programme aims at:
Contributing to professional growth and career advancement of business managers and administrators in public services;
Developing human resources in various aspects of business and public administration via distance learning mode in the Commonwealth; and
Offering quality MBA/MPA programmes at post-graduate level that can be implemented widely in Commonwealth countries and can be recognized across the Commonwealth.
Mode of delivery
COL has developed the programme in order to widen access to education for citizens of Commonwealth member nations. COL's goal is to empower individuals with knowledge that enables them to become agents of economic and social development in their home countries. As per the mandate of COL to promote distance education, the programme is offered by partner institutions in flexible modes of delivery that overcome time constraints and geographical barriers, thereby offering students a novel way of studying and working simultaneously. With distance learning, students are provided an opportunity to seek self-enrichment and advancement in their own time, in their own space, at their own pace and, most importantly, at an affordable price.
The CEMBA/CEMPA Programme is designed for busy working professionals in response to the growing demands for postgraduate level education in business and public administration.
The flexible  and modular programme allows students to choose either Business Administration (MBA) or Public Administration (MPA) as their major field of study. The minimum completion time for the Commonwealth Executive MBA or MPA is two years.
Programme structure
Course contents
Instructional materials for each course were developed by subject experts drawn from various institutions in the Commonwealth. Curriculum developers from universities in Australia, New  Zealand, Sri Lanka, India and Canada wrote original course materials. To ensure that course materials remain current, courses are updated regularly.
Core courses
The CEMBA and CEMPA streams share the following core courses:
Enterprise Information Systems and Digital Strategy
Management in Organisations
People and Talent Management
Operations Management
Economic Environment of Business
New Public Management and Governance
Data Analysis and Decision Making
Marketing Management
Accounting Issues and Financial Management for Business Decisions
Specialist compulsory courses
Each stream has two specialist compulsory courses.
CEMBA stream:
Strategic Management
Quality Management
CEMPA stream:
Public Policy
Development Planning and Administration
Electives
These electives are shared between the CEMBA and CEMPA streams:
Electronic Commerce
Project Management
Managerial Economics
Policy Analysis and Implementation
Contemporary Administrative Systems
Disaster Management
Corporate Finance
Required courses
There are two required courses:
Governance
The Commonwealth of Learning CEMBA / CEMPA Programme benefits from the oversight and direction of two governing bodies: an Executive Governing Board and an Academic Board. Our goal is to design and deliver high quality learning and professional development opportunities for participating Partner Institutions and their students.
Key highlights
Affordable fee structure – affordable access to management education for working executives and managers;
Focus on Open & Distance Learning – flexible and distributed learning mode which is ideal for part-time study;
Recognition and Credibility – the programme is recognised by the regulatory agencies in the countries of the partner institutions, while COL oversees the quality of the courses;
High-quality curriculum – the CEMBA/CEMPA courses were developed and reviewed by subject matter experts from universities across the Commonwealth;
Local Learner Support – each Partner Institution in the CEMBA/CEMPA Consortium provides learner support through tutors and local study centres;
Localised Materials & Resources – each Partner Institution provides localised materials, resources and case studies to supplement learning;
Credit Transfer – students attending courses at any Partner Institution will receive bona fide credits for their CEMBA/CEMPA degree. (Some conditions apply. Please contact the Partner Institution directly where you wish to pursue a degree or diploma.); and
Expanding Number of Partner Institutions – The CEMBA/CEMPA Consortium is growing throughout the Commonwealth.