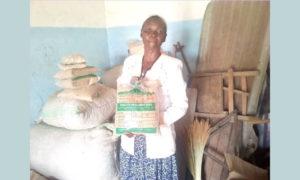 COL has been working with Makerere University to implement L3F. The programme was started in 2009 in southwest Uganda and has now spread across the country, with over 20,000 participants registered on the m-Omulimisa learning platform, enabling them to access quality learning resources on various aspects of agriculture at no cost.
An external evaluation of the L3F programme in central and northern Uganda was commissioned in 2019 to assess its impact on the productivity, income and livelihoods of the L3F participants compared to a control group. The study confirmed earlier evaluations of the approach, which found L3F improves livelihoods. Current efforts working with the Ministry of Agriculture, Animal Industry and Fisheries are geared towards creating policy space and an enabling environment for the L3F approach to flourish through establishing an enabling framework.
The L3F team in Uganda has engaged with the Uganda Parliamentarians Forum on Food Security, Population and Development to discuss legislative initiatives and policies for enhancing food and nutrition security.
In April 2018, COL partner Makerere University briefed the country's MPs on the L3F model. The dialogue with the parliamentarians was organised to address the roles and harmonisation of legislative initiatives and policies with respect to enhancing food and nutrition security. It was part of the Food and Agriculture Organization's support for the Pan-African Parliamentary Alliance for Food and Nutrition Security, which aims to strengthen the capacities of parliamentarians in Africa to better legislate on food and nutrition security.
Several organisations, governments and NGOs have adopted L3F, and this adoption has helped the scale-up of the programme nationwide. In line with the Certified Public Accountants of Uganda's mandate of offering continuous professional education to ensure that its members keep up to date with developments in the profession, a presentation was made on "Building a Robust Agricultural Sector Using the L3F Approach" at the 7th Economic Forum, held in Entebbe on 17 July 2019.
More organisations have been adopting the L3F model. AgriNet Uganda Limited (which provides agricultural inputs), the Microfinance Support Centre (which provides loans) and the International Institution of Rural Reconstruction (which provides training) have adopted L3F and signed a Memorandum of Understanding with m-Omulimisa Innovative Agricultural Services. Currently, 12,000 farmers are reached in nine districts across Northern Uganda.
The initiative has resulted in improved access to extension services, improved agricultural technologies and services such as seeds, fertilizer and agriculture insurance, as well as affordable credit. These have led to improved livelihoods and quality of life among farming communities. Through the village agent model, self-employment opportunities are created for rural youths, who earn commissions by providing services to their respective communities through the m-Omulimisa platform.
A trial of financial literacy mobiMOOCs has been set up for 100 farmers in nine districts of Uganda, where village agents and extension workers from NGOs (e.g., Sasakawa Global 2000) manage a call centre to respond to farmers' queries.