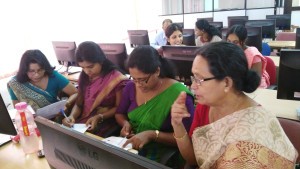 A two-day workshop on open educational resources (OER) was conducted at the Open University of Sri Lanka (OUSL) on 15 and 16 February 2016. Co-organized by COL, OUSL's Staff Development Center and OUSL's International Academic Relations Unit, the workshop objectives were to:
develop capacities among academic staff in using, reusing, revising and remixing existing OER;
develop hands-on skills in searching and locating OER for teaching and learning;
develop a deeper understanding of licensing mechanisms of OER with a special emphasis on the Creative Commons;
develop capacities in open and distance learning (ODL) course design which incorporate the philosophies of OER; and
sensitize academic staff to the institutional policy frameworks on the use/reuse and distribution of OER.
The workshop was attended by a mix of junior and senior academics from various departments across OUSL and included approximately 50 percent female participation. Feedback from participants was that their most important takeaway was a new appreciation and understanding of the various types of licensing they should be aware of when developing OER material for ODL. Going forward, participants will strive to develop at least one ODL course each by using/reusing OER in alignment with the OUSL institutional OER policy framework.
The facilitator of the workshop was Professor Mostafa Azad Kamal, Director – eLearning Centre of the Bangladesh Open University.