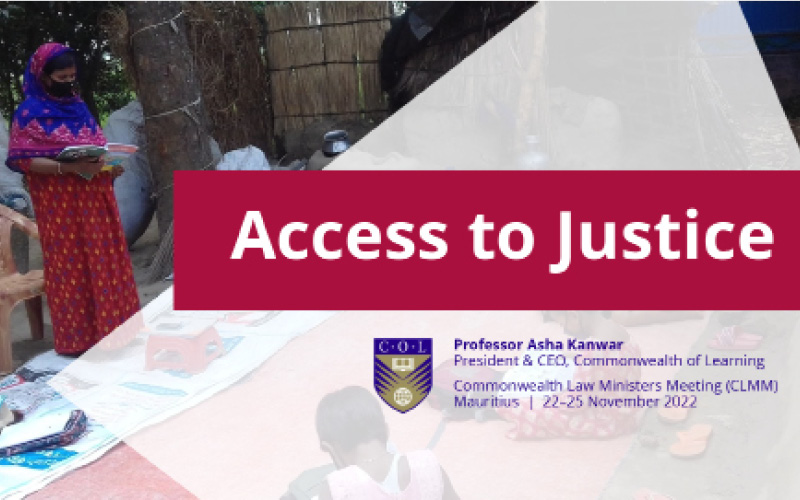 Reading Time:
4
min read
COL President & CEO, Professor Asha Kanwar, recently presented a virtual address to ministers and attendees at the Commonwealth Law Ministers Meeting (CLMM), hosted by the Government of Mauritius from 22 – 25 November 2022 under the theme of 'Strengthening international cooperation through the rule of law and the protection of human rights.'
Within the sub-theme of 'Access to Justice,' COL's President spoke to how distance and online learning can open up access to quality legal education…at a fraction of the cost of campus provision. As an example, the Legislative Drafting programme developed with COL support, is designed for the novice, as well as the seasoned drafter, to learn practical skills in translating government policies into clear and effective laws that can be understood and applied by a variety of stakeholders.
She quoted Joycelyn Sikalu, Assistant Crown Counsel in the Attorney General's Office, Kingdom of Tonga, who said that the programme: "…has assisted me in… legal drafting and legal analysis work, allowing me to interpret and analyse the laws differently and in a manner that I never did before."
Professor Kanwar went on to detail COL's continuing focus on empowering grassroots communities to access justice. Along with COL's legislative drafting programme, the GIRLS Inspire project and addressing the existential issue of gender-based violence were other examples.
She commented, "Working with partners in ten countries, COL is skilling girls for livelihoods so that child early and forced marriage can be prevented. Over 110,000 girls have been trained and more than 1,200 child, early and forced marriages averted. Girls receive training in technical skills as well as their social and legal rights. This helps them understand their choices and boosts their confidence for decision-making. This would not be possible without enlisting the support of fathers, brothers and spouses."
In closing, COL's President stated, "We know that well written laws are important, but COL's experience shows that capacity building and legal literacy by themselves are not enough. Social capital and networking are crucial for accessing legal and judicial institutions. Support from peers is particularly helpful in translating skills and knowledge into concrete action."
For the complete video presentation, please click here.