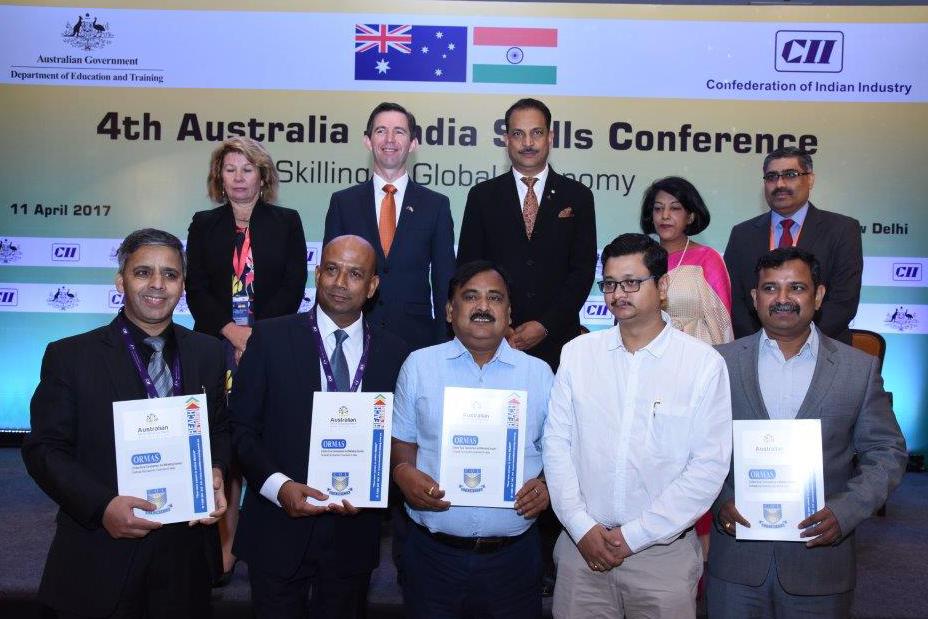 Reading Time:
3
min read
The Commonwealth Educational Media Centre for Asia (CEMCA) has signed a Memorandum of Understanding (MOU) with Australian Skills Development Pvt. Ltd. (ASD Education) and Odisha Rural Development Marketing Society (ORMAS) to provide international training assessment and certification to 1000 vocational trainers involved in skilling rural youth in the state of Odisha.
The MOU was signed on 11 April 2017 during the 4th Australia-India Skills Conference, held in New Delhi, India, and exchanged in the presence of Senator the Honourable Simon Birmingham MP, Minister for Education and Training, Government of Australia, and Shri Rajiv Pratap Rudy, Honourable Minister for Skill Development and Entrepreneurship, Government of India.
The programme aims to address the need for high quality vocational trainers, particularly in rural and semi-urban locations. The project will run for one year and will be evaluated by a third party.
The MoU was signed by Dr Shahid Rasool, Director, CEMCA; Shri B.N. Das, Executive Director, ORMAS; Mr Suresh Padmanabhan, CEO, Reach for Training; and Mr Rao Vamaraju, Director, ASD Education.
Based in New Delhi, CEMCA promotes the meaningful, relevant and appropriate use of media and technology to serve the education and training needs of the Commonwealth Member States of Asia. Over the years, CEMCA has widened its scope to embrace emerging educational technologies to cover formal, non-formal and informal learning at all levels. CEMCA fully aligns itself with the COL programme while retaining its regional focus.