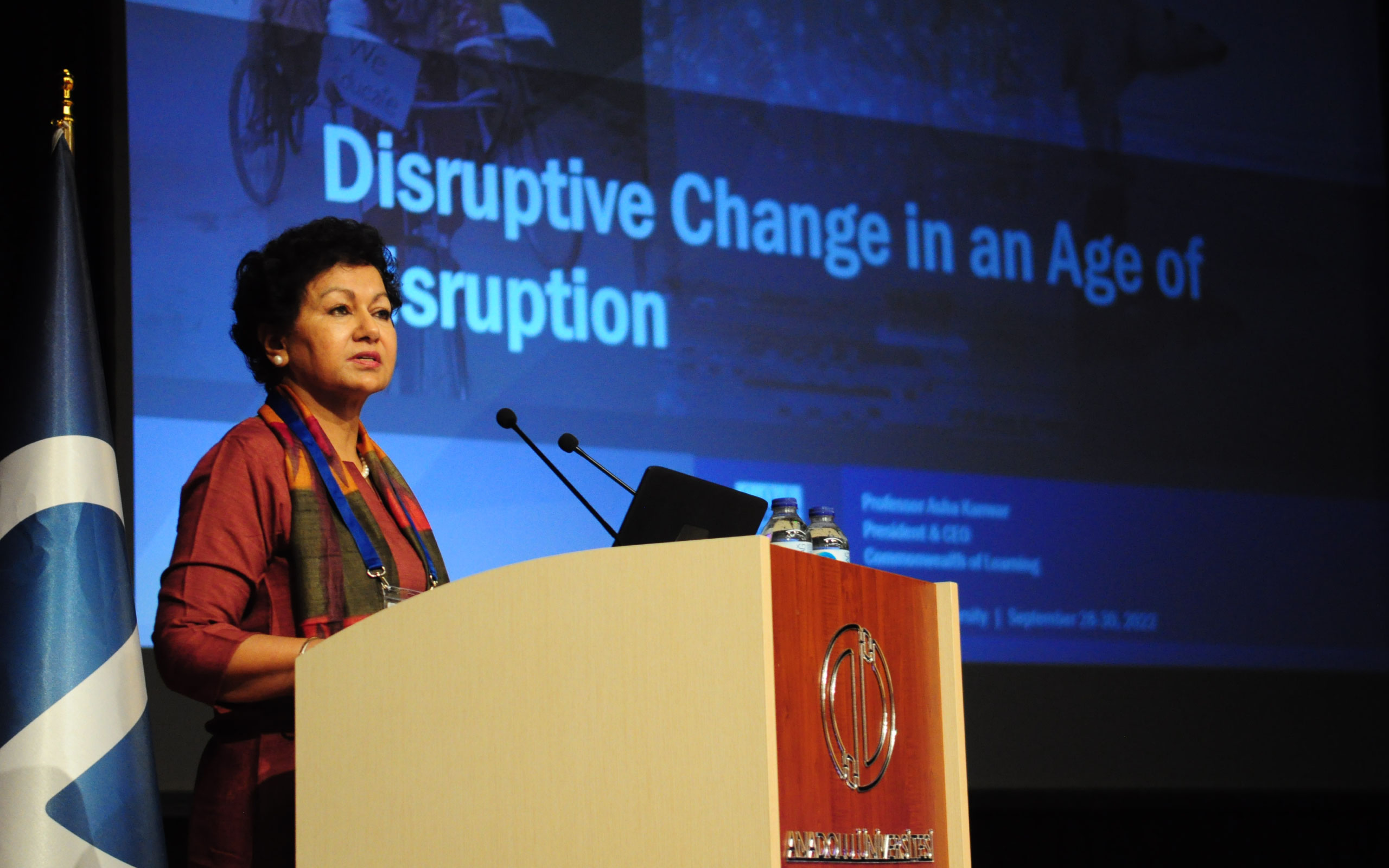 Reading Time:
5
min read
by Mr Dave Jackson
Communications Manager
It's a wrap at one of the world's premier educational conferences – the 5th International Open and Distance Learning (IODL) Conference 2022 in Eskişehir, Turkey. Over the course of three days the event presented 223 papers, six keynote addresses, seven panel discussions, and two workshops.
Hosted by Anadolu University Open Education System (OES) – one of the world's leaders in open and distance learning – IODL 2022 provided a unique platform for researchers and practitioners to present and discuss a broad range of topics related to open and distance learning within the context of "disruptive change" in education.
Included in the list of distinguished presenters was the Commonwealth of Learning's (COL) President and CEO, Professor Asha Kanwar, who delivered a well-received keynote address entitled "Disruptive Change in an Age of Disruption."
She reflected on the positives that she believes IODL 2022, with the support of Anadolu University's Open Education System, achieved,
"Anadolu university organised an excellent event which was a reunion of sorts for the distance learning community. The university is a leader in research in ODL and this conference provided an opportunity to their young researchers to interact with the global community. COL's contribution was to provide an international development perspective and how ODL can be harnessed for sustainable development."
In her keynote address from September 29th, Professor Kanwar delivered a powerful message that touched not only on climate change, but other existential threats to education…from learning inequality during Covid-19 to the closure of campuses to poverty alleviation…and how COL is providing real-world solutions to address these challenges through the adoption of disruptive innovations and the positive impact that innovative strategies have on teaching and learning.
During her speech, COL's President posited on how distance and online learning can, in fact, significantly lower the carbon footprint of education around the world,
"Recognising the need to raise awareness and build the capacity of Commonwealth citizens to adapt to and mitigating climate change, COL engaged with key stakeholders in 26 countries to identify their priorities and concerns. The result of these deliberations is a document: Transforming Education for Climate Action: Report to Commonwealth Ministers of Education. This report provides a road map for how ministers of education can climate proof education systems, implement a green learning agenda that builds skills for blue and green economies, and promote education for climate action."
As part of achieving these environmental conservation objectives, COL continues to develop transformational programmes that will help students around the globe gain access to educational opportunities despite the challenges of the planet's escalating climate crisis.