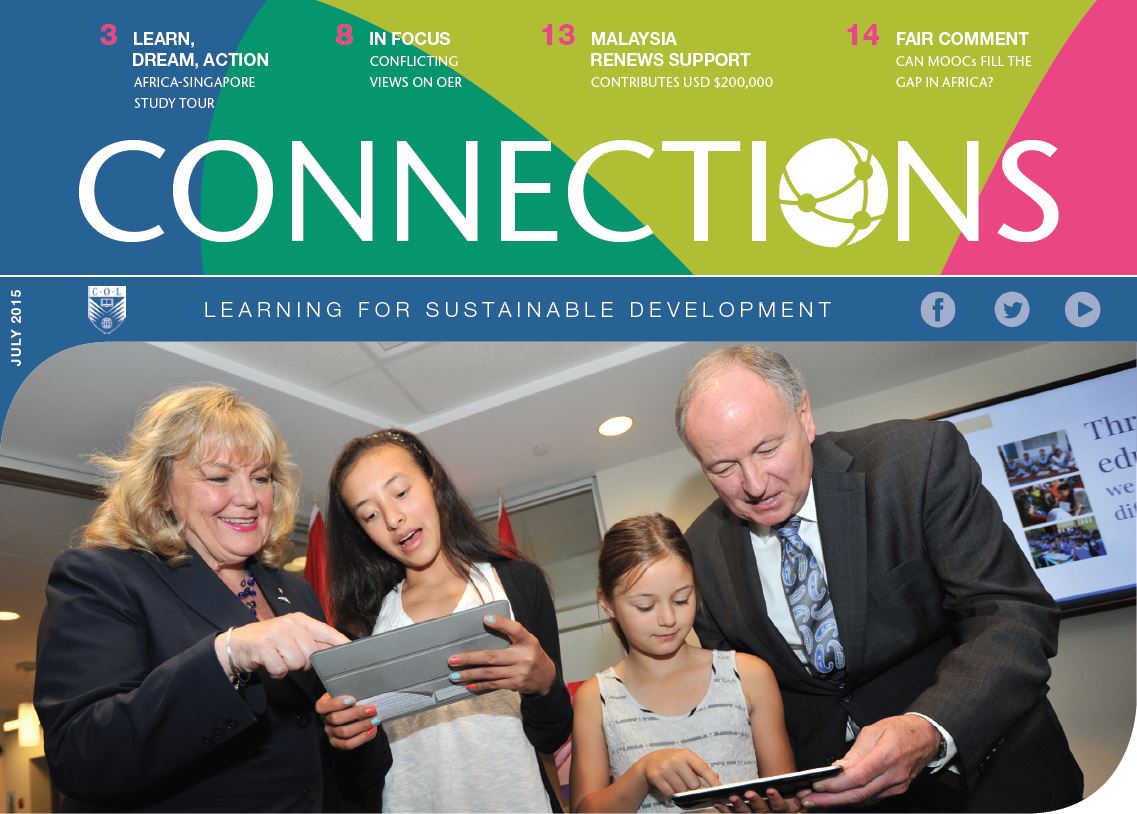 Reading Time:
43
min read
Cover Story | Canada Announces New Funding
The Honourable Robert Nicholson, Minister of Foreign Affairs and the Honourable Kerry-Lynne Findlay, Minister of National Revenue, Canada visited COL on Wednesday, 8 July 2015. They were accompanied by the Honourable Yonah Martin, Deputy Leader of the Government in the Senate and Mr Russ Hiebert, MP.
Minister Nicholson announced additional Canadian support ofCA$2.3 million for a project to promote secondary schooling and skills development for girls and women in Commonwealth countries. This project is part of Canada's international advocacy eff orts to prevent child, early and forced marriage (CEFM).The Honourable Kerry-Lynne D. Findlay, also announced that Canada will renew its funding to COL at a level of CA$7.8 million over the next three years.
Children from the community had joined the guests and demonstrated the use of Aptus to the visiting dignitaries. Aptus is a low-cost technology based solution developed by COL to reach the unreached with quality learning content. It helps overcome challenges of lack of grid power and connectivity in remote locations. This could be a means of reaching girls in resource-poor settings with relevant skills development programmes. Girls from Bangladesh and Pakistan who had been married at the ages of 14 or 15 and had no opportunity for continuing their school education, sent very moving video messages for the occasion.
Professor Asha Kanwar, President and CEO of COL expressed her sincere gratitude to the host country Canada for their financial, intellectual and moral support to COL. She said, "Girls and women continue to remain seriously disadvantaged across the Commonwealth. The Canadian government's international advocacy eff orts to prevent child, early and forced marriage, are already drawing attention to this major challenge. COL can become an effective instrument for Canadian these efforts which will serve to secure our common future."
News
Malaysia Contributes USD $200,000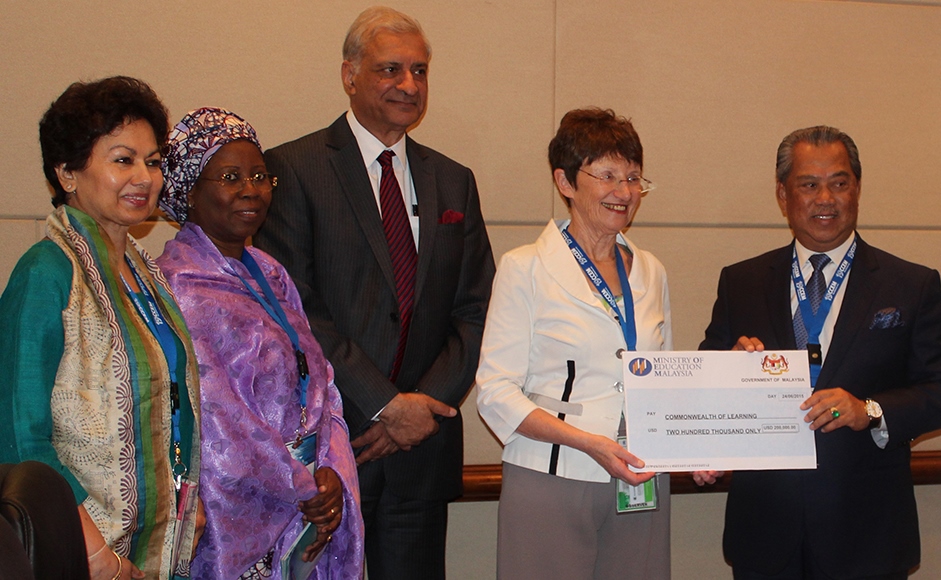 The Deputy Prime Minister of Malaysia, Tan Sri Muhyiddin Yassin presented a cheque of USD $200,000 to Dr Linda Sissons, CNZM, Chair, COL Board of Governors.
The Deputy Prime Minister, who also serves as Minister of Education, highlighted some of the key priorities shared by Malaysia and COL, particularly in the areas of technical and vocational education and training (TVET), and quality assurance in teacher education and training. "TVET is being positioned as the most important avenue for up scaling Malaysia's skilled human capital base" said the Deputy Prime Minister.
As Malaysia embarks on its most comprehensive education transformation exercise to date, its contribution to COL demonstrates how deeply it is invested in the development and sharing of open learning and distance education knowledge, resources and technologies. "Malaysia looks forward towards further engagement, cross-fertilisation of ideas and smart partnerships between Commonwealth members," said the Deputy Prime Minister. Thesis exactly what COL aims to continue delivering through its programme and new Strategic Plan for 2015-2021.
VUSSC Meeting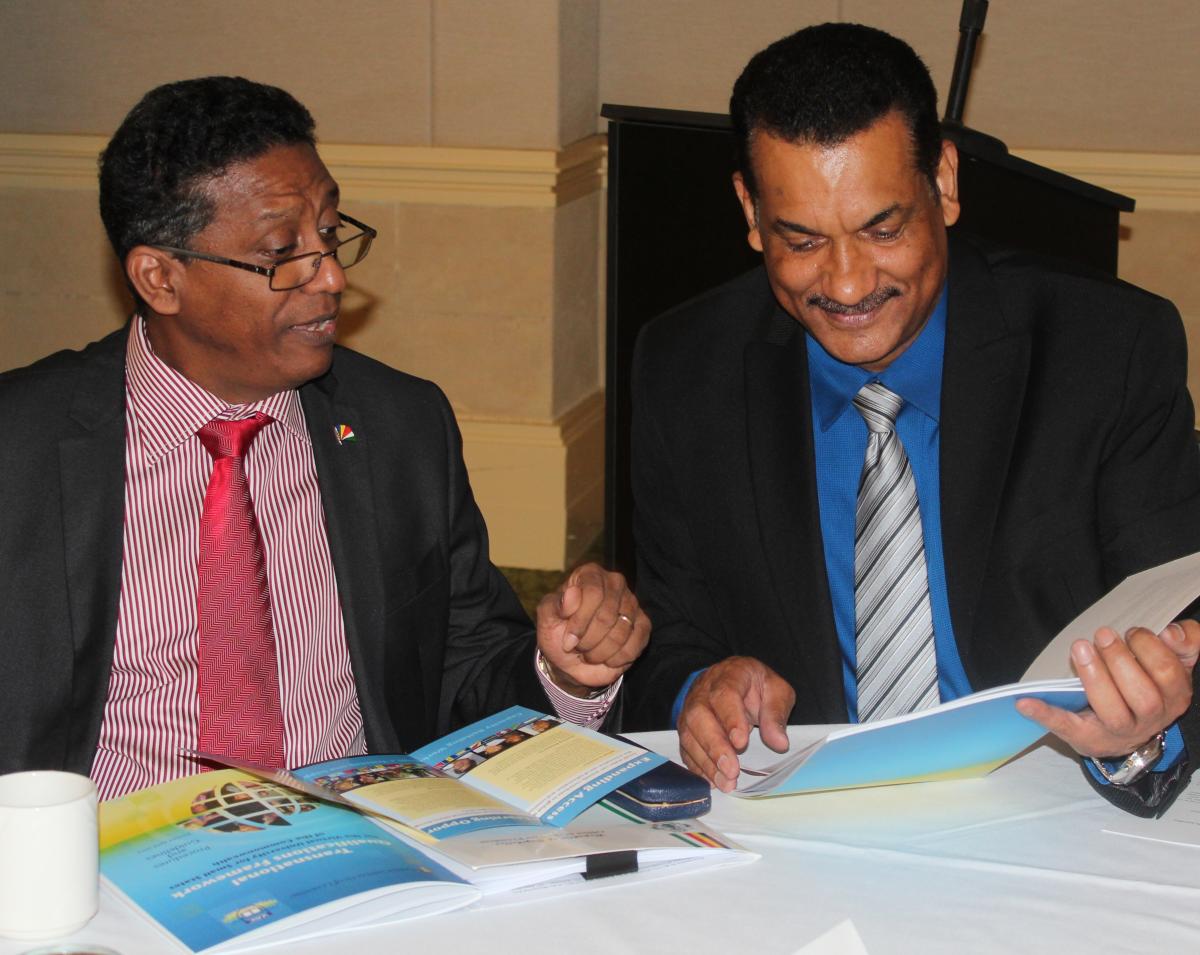 COL organised a meeting of ministers and officials from the small states to brief them about the Virtual University for Small States of the Commonwealth (VUSSC) on 21 June in The Bahamas. COL Board members and ministers discussed future directions for VUSSC and suggested that courses be developed on the 'blue economy', climate change, youth and skills. The Honourable Jerome Fitzgerald, Minister of Bahamas chaired the event. His Excellency Danny Faure, Vice President of the Republic of Seychelles gave the keynote address followed by presentations from the President of COL, Prof Asha Kanwar and Education Specialist for VUSSC Mr John Lesperance.
Board of Governors Meeting
The annual meetings of the COL Board of Governors took place in The Bahamas on the 19 and 20 June, to coincide with19th Conference of Commonwealth Education Ministers (CCEM).
2015 Open Education Award for Excellence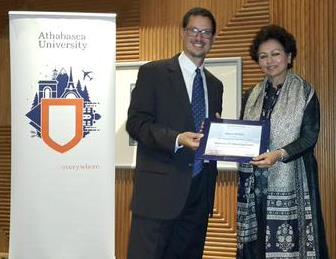 COL received the 2015 Open Education Award for Excellence in the Open MOOC category for its MOOC, Mobiles for Development. The MOOC was jointly run by COL and IIT Kanpur, and explored the use of mobile technology for human development.
Australian Grant for Women and Girls
In line with its focus on gender equality and empowering women and girls, the Department of Foreign Affairs and Trade, Australia has made an additional contribution of AUD$500,000 to COL to support skills development among women and girls in Bangladesh, India and Pakistan for a period of one year.
Hewlett Approves Grant for OER Work
The additional contribution of USD $600,000for the next three years will help COL to advocate for governments and educational institutions to adopt supportive OER policies, provide technical support for Commonwealth countries and institutions to develop and use OER, and create new content.
Ministerial Round Table on MOOCs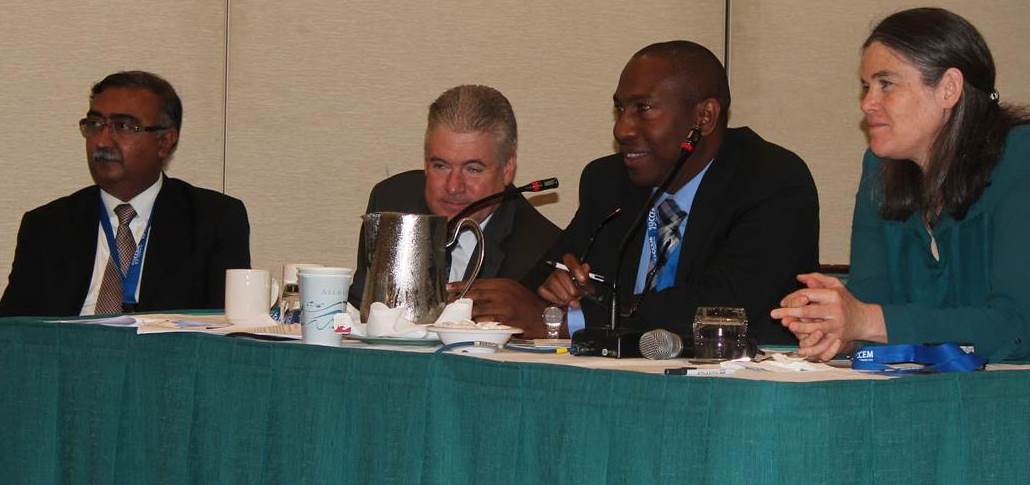 During the 19th CCEM, COL organised a session on MOOCs chaired by the Honourable Dr Robert Lewis, Minister of Education, St. Lucia. Speakers included President and Co-Founder Coursera Prof Daphne Koller, Vice Chancellor and President RMIT Mr Martin Bean CBE, and Director of Technology and Knowledge Management COL Dr V Balaji. Several Ministers were present and the issue of quality and accrediting MOOCs emerged as a priority for them. COL distributed A Policy Brief on MOOCs to all the participants.
Strategic Plan 2015-2021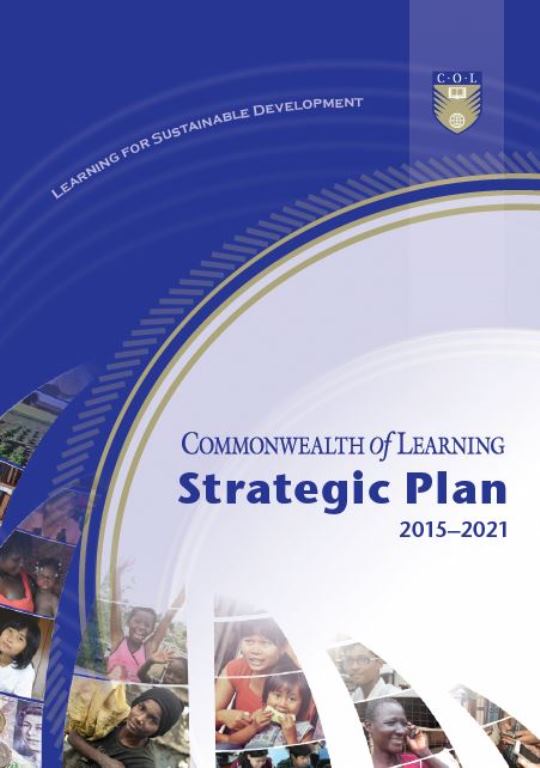 Through wide consultations across the Commonwealth, COL has developed its new Strategic Plan 2015-2021 titled 'Learning for Sustainable Development'. COL has made a transition from 'learning for development' to 'learning for sustainable development' to align itself to the post-2015Sustainable Development Goals. COL will use its expertise in distance learning and technology-based approaches to promote lifelong learning that leads to sustainable development. This means that learning must lead to opportunities for livelihoods, social inclusion and environmental conservation. This will be achieved through two pillars: 'Education' and 'Skills', with gender as a cross-cutting theme.
World Education Forum 2015, Incheon
The World Education Forum (WEF) was organized by UNESCO and six UN agencies to discuss the proposed Sustainable Development Goal (SDG) 4 on 'Inclusive and equitable access to quality lifelong learning for all by 2030' and to get agreement on a Declaration and a Framework for Action. There was a call to continue the unfinished business of EFA and the MDGs and to emphasise not just access but also quality, equity and inclusion in education. Teachers were seen as critical to improving the quality of education and there was a need to focus on lifelong learning and the importance of harnessing technologies. The President of COL was invited to speak on 'Innovations and Technology'.
International Conference on ICT and Post-2015 Education, Qingdao
Following the World Education Forum 2015, UNESCO organised this conference in Qingdao in partnership with the government of China. The Education sector invited COL to be a partner in this event and requested COL to lead the sessions on OER in collaboration with UNESCO-CI. Speaking at the conference, Prof Kanwar said "OER must not be seen as a product alone but as a process, facilitated by technology in which various types of stakeholders are able to interact, collaborate, create and use materials and pedagogic practices, that are freely available, for enhancing access, reducing costs and improving the quality of education and learning at all levels."
ICTs in Africa: A Clear Way Forward for Education
The eLearning Africa 2015 report conducted a continent-wide survey of education and ICT professionals, and found that 95 percent viewed ICTs as the key to improving education. There is no dispute that ICTs benefit both teachers and students. Some of the top reasons for ICT use are:
That digital materials, often open educational resources (OER), improve the quality of education and at less cost;
that digital materials are both visual and interactive, which helps students process and retain information and develop valuable technology skills and;
that ICT use allows teachers to continually upgrade their skills and improve the quality of their teaching.
Considering the benefits of ICT integration, why are integration levels still low? According to the eLearning Africa report, there is "insufficient awareness in many schools, colleges, institutions and government departments of the benefits." COL's Education Specialist for eLearning, Dr Sanjaya Mishra, sees two additional challenges: the belief that quality cannot be maintained when using technology, and the lack of connectivity and access to technology.
The Commonwealth Certificate for Teacher ICT Integration (CCTI) is one of COL's responses to the global challenge of training and equipping teachers with the skills necessary for integrating ICTs into the classroom. The CCTI, developed in partnership with SchoolNet South Africa, is an OER offered online that challenges school managers and teachers to reflect on what they do and how ICTs can be integrated into their evolving management and teaching styles. The CCTI programme is active in the Caribbean and Africa.
With this in mind, COL organised a partner meeting with ministry officials and teacher-training institutions of nine countries in Commonwealth Africa to discuss how the CCTI could be further adopted and adapted to improve education quality. Dr Mishra, who facilitated the meeting, found a refreshing energy and renewed commitment from all nine countries to the CCTI programme.
While the CCTI may have been ahead of its time, governments, international organisations and institutions are now coming together with a unified call: to harness the potential of technology to improve education and the economy of Africa. Sustainable Development Goal 4.c calls for an increase in "the supply of qualified teachers, including through international cooperation for teacher training in developing countries, especially least developed countries and Small Island developing States." Increasing teacher quality and ICT use could greatly improve the future of the young people of the Commonwealth by engaging and exposing them to high quality learning materials.
Signing an MOU with COMSEC and UWI
In the wings of the 19th CCEM, the Commonwealth Secretariat (COMSEC) organised an event to formally sign an MOU to collaborate on a diploma and degree programme in youth development. The partners will be COL, COMSEC and the University of the West Indies (UWI) Open Campus. Prof Asha Kanwar, DSG Deodat Maharaj and Prof Clement Sankat signed the document on behalf of their respective organisations.
Investing in Africa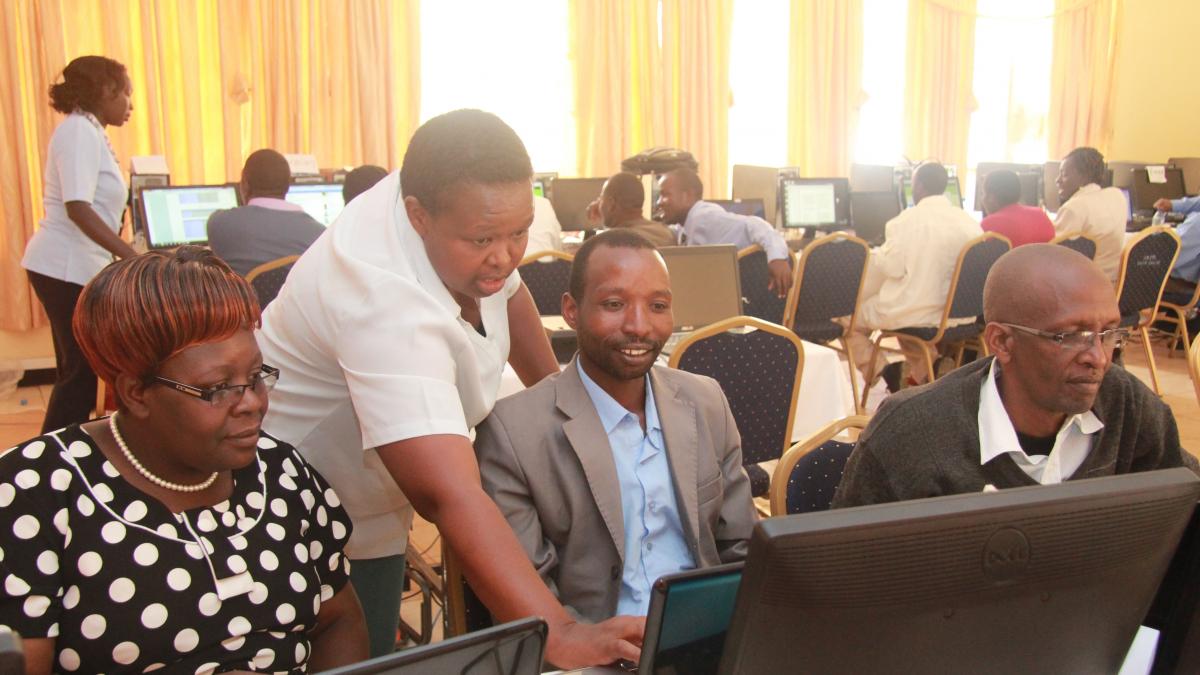 COL's Innovation in Vocational Education and Skills Training (INVEST) Africa partnership promotes the use of technology-enabled learning for quality improvement. In recent months, ten African technical and vocational education and training (TVET) institutions from seven countries have benefit ted from COL'sexpertise in building capacity in online course design. More than 200 teachers have been trained in instructional design for flexible and blended learning in the following institutions: Technical and Vocational Teachers College, and Zambia Institute of Business Studies and Industrial Practice in Zambia; Koforidua Polytechnic in Ghana; Kenya Technical Teachers College, Rift Valley Technical Training Institute and Thika Technical Training Institute in Kenya; Mbeya University of Science and Technology in Tanzania; Makerere University Business School in Uganda; Auchi Polytechnic in Nigeria; and Dom Bosco Higher Institute in Mozambique.
COL Participates in Conference on Financing for Development
COL was invited to participate in a conference organised by COMSEC in Barbados, from 25 to 26 March to discuss the issue of financing for development in the small states of the Commonwealth relating to the post-2015 Sustainable Development Goals (SDGs). The conference was attended by senior officials from Ministries of Finance and representatives from national, regional and international organisations. The conference examined four priorities: debt sustainability, climate-change financing, international acknowledgement of the vulnerability of small states, and capacity building.
COL emphasised the role of ICTs and open and distance learning to strengthen capacity building, and stressed the need for the financial inclusion of the small states.
Top 3 | Tips for Gender Mainstreaming in your Institution
Gender mainstreaming is a strategy and process for ensuring that both women and men participate equally in decision making and access the resources, opportunities and benefits of social and economic development. The inequalities that perpetuate gender discrimination in larger societies are generally reflected within the cultures of their organisations, including open and distance learning (ODL) institutions. ODL institutions must ensure that their policies, delivery processes, learning tools and content respond to the differentiated needs of women and men, and work to reduce inequalities. They can do so by focusing on these three areas:
Create buy-in at multiple levels:
While it is important that an institution's senior management support gender mainstreaming, it is equally important that all staff understand its importance, which requires the development and implementation of a gender capacity building strategy.
Make gender equality apart of core values:
As a guiding principle, gender equality helps to dictate internal conduct and the institution's relationship with the external world. Staff and stakeholders should be involved in defining what gender equality means to the institution.
Allocate resources:
To reflect the institution's commitment to gender equality, adequate human and financial resources must be designated for the implementation of activities that address gender disparities.
Learn, Dream, Action: An Africa-Singapore Study Tour
Due to massive increases in student numbers, especially at the primary school level, and the global teacher shortage, many countries have ramped up their efforts to recruit new teachers. However, mass recruitment can compromise quality. COL is supporting teacher educators to integrate information and communications technologies (ICTs) into teacher training and the classroom. ICTs can be used as learning tools to improve quality, reduce costs, and enable teachers to continually upgrade their skills.
With the support of the Singapore Technical Cooperation Directorate, the Ministry of Foreign Affairs and the National Institute of Education, a training workshop was organised. The delegation included twenty-nine teacher educators from eleven African nations. Through the tour, participants learned how to identify the role that ICTs play in enriching teaching and learning, and how to incorporate them into their institutions.
To ensure tangible outcomes, the teacher trainers were also offered a first-hand experience at an ICT-integrated school where they were invited to explore ways to put into practice what they had learned during their training workshop. The teacher educators were invited to propose projects to be implemented in their institutions. According to COL's Education Specialist for Teacher Education, Dr Jessica Aguti, "We don't want people to conclude the workshop, go home and send a report. No, we want to take it forward and ask them to do something about what they learned."
Many new proposals for collaboration were drafted. A common theme among the proposals was a request for capacity building and training in course development and integration of ICTs into existing programmes.
The implementation of the proposals will go a long way in helping scale up the adoption of ICTs in teacher training in Africa. Ultimately, young people are our future, and quality teachers help develop students who are more equipped to tackle local and global challenges.
Canadian Students Learn about the Commonwealth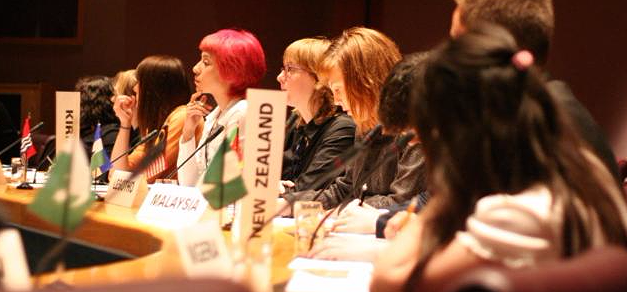 According to a 2009 Royal Commonwealth Society (RCS) report, knowledge of the Commonwealth is low in developed countries such as Canada. The RCS in Canada is trying to reverse this by educating young Canadians about the Commonwealth. Each year, the RCS facilitates a youth-run programme called the National Student Commonwealth Forum. This year, the forum brought eighty-eight delegates to Ottawa for a week-long educational experience. During the week, they heard from guest speakers on the year's theme – youth in the Commonwealth and gender equality – and drafted resolutions.
The true highlight of the week for delegates was the model Commonwealth Heads of Government Meeting (CHOGM), which took place at the Department of Foreign Affairs, Trade and Development Canada. As with most momentous events, the model CHOGM opened with a number of speeches which served to inspire and educate the delegates as they prepared for the work ahead. COL President and CEO, Prof Asha Kanwar, helped increase the delegates' knowledge of the Commonwealth through a short video message that explained the value of technology-enabled learning, the importance of gender equality and what the Commonwealth, through COL, is doing in these areas. The delegates passed three resolutions at the meeting, one of which concerned COL and the spread of information and communications technology.
Delegates left the meeting more knowledgeable about the Commonwealth and more impassioned about creating global change.
Hyperlink: https://thecommonwealth.org/sites/default/files/inline/Commonwealth%20Conversation%20Final%20Report%20Mar%202010.pdf
Supporting Quality in Open Schools
COL has created a model for quality assurance that helps open schools to ensure that their policies, systems, processes and procedures for the development, maintenance and enhancement of quality are functioning effectively. Implementing this model provides consistency and helps transform institutions' quality assurance systems to meet international best practices. COL has been working with its partners to implement this model, specifically through the Commonwealth Open Schooling Association (COMOSA).
During the most recent COMOSA meeting, held in Dhaka, Bangladesh, the COMOSA Africa Chapter expressed the desire to develop quality assurance audit criteria, based on a model used by the Botswana College of Distance and Open Learning (BOCODOL) and the Namibian College of Open Learning (NAMCOL) for established open schools.
BOCODOL and NAMCOL are now assisting the Lesotho Distance Teaching Centre (LDTC) and the Mozambique Institute of Open and Distance Education (IEDA) to develop quality criteria to conduct peer audits in these institutions.
A Common Connector: Course Development in Media and Agriculture
The Commonwealth Educational Media Centre for Asia (CEMCA), COL's regional office in India, has partnered with the Allama Iqbal Open University (AIOU) in Pakistan to lay the foundations for ten new online courses in media and agricultural sciences.
Dr Shahid Siddiqui, the Vice Chancellor of AIOU, who chaired the workshop, noted the university's intention to switch to online courses, "to facilitate the maximum number of students by taking full advantage of new technology. "He also thanked COL and CEMCA for their support in strengthening distance learning and skill development in the country.
Dr Ramesh Sharma, Director, CEMCA, says, "We are delighted to collaborate with AIOU on these skill-based courses. This collaboration will set the path for better regional cooperation, economic growth and a boost to entrepreneurship." These ten courses are a significant step towards AIOU's goal of providing more online offerings to expand access to a greater number of students.
Upcoming Events
29th Annual Conference of the Asian Association of Open Universities (AAOU)
30 November to 2 December 2015, Kuala Lumpur, Malaysia
Hosted by Open University Malaysia
Deadline for Abstracts: 31 July 2015
International Symposium on ICT in Development 2015 (ISICTD2015)
25 to 27 November 2015, To'omatagi, Samoa
Jointly hosted by the National University of Samoa, and Ibaraki University, Japan
Deadline for Abstracts: extended to 29 August 2015
Focus | Conflicting Views of OER
Comparative study finds VUSSC's OER model unique and effective
COL has embraced the OER movement, and is developing and sharing high-quality OER through its Virtual University for Small States of the Commonwealth (VUSSC).
VUSSC is a network of thirty-two small states in the Commonwealth created to promote collaboration on developing open-content resources for education, training and capacity building. Through the VUSSC Transnational Qualifications Framework, students from different countries can receive the same quality of education and credentials. For example, the framework can help to ensure that a master's student from St. Lucia will have the same educational standards and qualifications as a master's student in Malta. Thus, young people can easily transfer their skills and work across Commonwealth countries.
Dr Leigh-Anne Perryman, supported by the Open University UK, and The William and Flora Hewlett Foundation, undertook her research on VUSSC as part of an OER Research Hub fellowship, and later visited COL headquarters in April 2015 to present her findings to COL staff.
Dr Perryman's research on OER has led to some interesting conclusions. For example, she found that there is a divide in the OER world between academic elites from developed countries, and those who see OER as a powerful tool for sustainable development. She also notes that in some cases OER are developed for their own sake: textbooks are converted into OER and materials are created "as the output of discrete short-term projects that start and end and tend not to learn from each other." As a result, large amounts of learning materials are being converted to OER without consideration of learners' needs. Mr Tony Coughlan who collaborated in Dr Perryman's research, points out that "open textbooks may save a lot of money in principle, but aren't necessarily being used to improve learning outcomes." Regarding the open education movement's emphasis on open textbooks, Mr Coughlan remarks that "it's easier to write something big; a big textbook is easier than getting your point across in a few lines on a mobile phone. Big digital textbooks aren't the solution to achieving educational inclusion." Dr Perryman confirms that "there is a view that OER is the solution, that openness solves everything. However, this view of the power of openness doesn't reflect the barriers like limited Internet connectivity. The focus on creating OER for its own purpose neglects the user which can make the materials irrelevant."
An alternative view of OER positions the user as the primary focus. Materials are created to be accessible to learners and are often divided into small chunks to be downloaded and consumed offline. Mr Coughlan notes that the focus is on distilling the material into small fi le sizes to increase the user's likelihood of accessing the information, as well as his or her ability to do so.
After conducting a comparative study on OER creation and use with VUSSC, Dr Perryman is convinced that VUSSC has found a unique and effective educational-development model. Instead of the "neo-colonial notion of pushing content, VUSSC is different", Dr Perryman says. "It works with people who collaborate to produce materials. There is a sense of empowerment; it's not development being done to people." Dr Perryman's data shows that VUSSC educators and learners benefit from the VUSSC model in areas such as collaboration and adaptation. Modifying OER to meet specific needs and local contexts (as over 72 per cent of VUSSC educators do) is a key goal of OER, which increases the resources' usefulness and likely impact on the learner.
While VUSSC educators have positively responded to OER, they are not alone: formal students of VUSSC consistently showed higher use of OER, and higher perceptions of the value of OER than did students using the Open University's OpenLearn platform and the Saylor.org platform. When asked if studying OER led to an improvement in their grades, 90 per cent of VUSSC learners agreed, while only 36 and 32 per cent of OpenLearn and Saylor.org users answered positively. VUSSC students also rated their collaboration with peers and enthusiasm for future study higher than learners from the other two groups. VUSSC students gave a 91 per cent positive score when asked if studying OER had increased their likelihood of completing their course of study, compared to 58 and 41 per cent for OpenLearn and Saylor.org. Dr Perryman cautions that the VUSSC respondents could have given more positive responses because they are taught by educators who value OER and/or because they may be studying only via OER.
Dr Perryman believes that the VUSSC model demonstrates that when user-community needs are not met by mainstream OER, development and sharing through open, transnational collaboration can offer a solution. She notes that the VUSSC model is "presenting a compelling view of the potential of open collaboration in growing small states' educational capacity and in helping increase educational and social inclusion in remote and isolated areas of the world."
For more on Dr Perryman and Mr Coughlan's VUSSC study visithttps://www.col.org/news/speeches-presentations/collaborating-across-borders
Five Global OER Trends
Speaking at the 2015 Open Education Global Conference in Banff, Canada, held in April, COL's President and CEO, Professor Asha Kanwar, drew from COL's experience to share five global trends in OER:
More developing countries have joined the OER movement.
Countries and institutions are moving from policy to practice.
Open textbooks are beginning to capture the imagination of policymakers and practitioners as tools for providing equitable quality education.
There are more multilingual OER options available today.
There is a move from "closed content" to OER use in MOOCs.
To read the full speech, please visit staging.col.org.
Our Commonwealth | Profile: University of the West Indies' Open Campus
Technology is often equated with youthfulness, however, at the age of sixty, the University of the West Indies (UWI) launched its Open Campus to strengthen its distance and online education offerings through innovative learning systems and new twenty-first century technologies. With roots in seventeen Caribbean countries, the UWI built on its physical network and expanded its offerings to rural, working people and underserved communities throughout the Caribbean and beyond. The Open Campus reinforces UWI's belief that education allows individuals to reach their potential, and as such, high-quality, technology-enabled education should be available to all.
While online learning is increasingly popular, many question its quality and raise concerns over the large number of participants who fail to complete online programmes. These challenges are not a concern for the Open Campus, according to Dr Luz Longsworth, the Pro Vice-Chancellor and Principal of the OpenCampus. He notes that "students are well supported in their learning experience, and this is rewarded by our