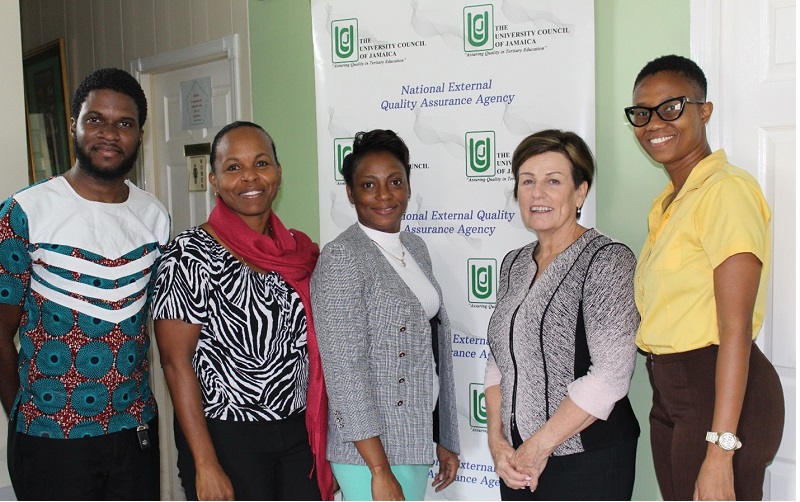 Reading Time:
3
min read
The Commonwealth of Learning (COL) and the University Council of Jamaica (UCJ) have signed an agreement to help UCJ develop and pilot open licensed materials for capacity-building activities in online and blended contexts for quality assurance personnel in 35 educational institutions across Jamaica. The learning resources will be available through the UCJ website for institutions to access and use.
These materials will be designed to assist higher education institutions in Jamaica in implementing the Standards for Distance Education (April 2022) that were developed and disseminated with COL support.
Following a recent visit to UCJ, COL Education Specialist Dr Mairette Newman said that COL and UCJ are committed to improving open and distance learning (ODL) delivery. "The materials will support institutions in guiding their faculty and senior administrative staff in interpreting the standards, assessing where their institutions are in relation to each standard and applying them to their quality assurance activities." In June 2022, COL and UCJ first hosted a series of three workshops to disseminate standards in distance education with the goal of setting out "to broaden and strengthen the impact of the distance education standards."
Regarding UCJ's collaboration with COL, Ms Althea Heron, Executive Director of UCJ emphasised the importance of COL's support in promoting the benefits and potential of distance education. "In today's rapidly changing world, innovation has become a constant feature of the educational landscape. This means that individuals must embrace the principles of lifelong learning to stay abreast of the latest trends and developments in their fields."
Ms Heron highlighted that distance education offers an excellent opportunity for individuals to pursue lifelong learning. She also said that it provides flexible and accessible options for learners of all ages and backgrounds to continue their education and professional development.