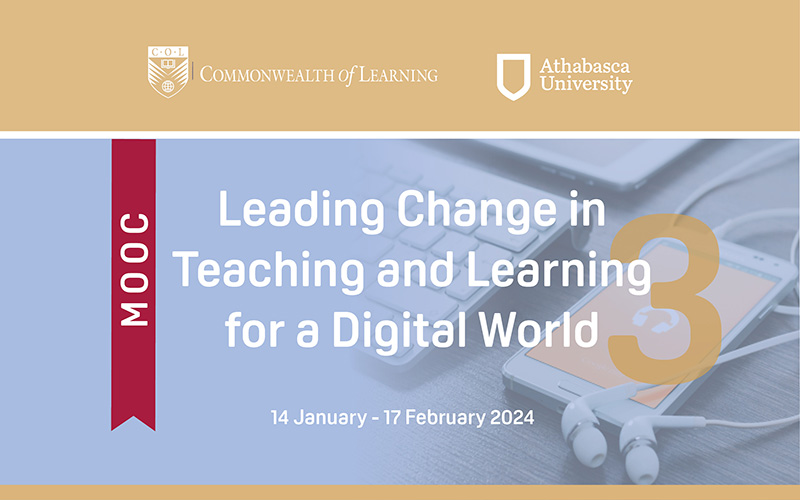 Reading Time:
3
min read
The massive open online course (MOOC) on Leading Change in Teaching and Learning for a Digital World (LCTL) is back with its third edition. Offered by the Commonwealth of Learning (COL) in collaboration with Athabasca University (AU), the five-week online course will start on 14 January 2024.
LCTL has been designed to assist teachers, administrators and academic managers in rethinking their leadership strategies and developing appropriate action plans for change within their own context.
This unique course will engage participants in the review, discussion and application of leadership ideas that support new teaching and learning practices. It will also provide a platform to explore innovative ideas and leadership skills to make real change in their own environments. This course will be led by Professor Martha Cleveland-Innes, Dr Nathaniel Ostashewski and Daniel Wilton from AU.
Professor Cleveland-Innes commented, "This newly revised version of LCTL will not only provide insight and reflection on leadership theories to support education. It will also provide reading, discussion and review of global and local needs in reference to digital competence and capacity in support of many types of sustainable development through education."
Dr Sanjaya Mishra, COL Director: Education said, "The LCTL MOOC fills the gap in strategic thinking needed to put educational technology into practice. At a time when new technology tools are invading the educational landscape every day, teachers, as well as educational leaders, must think about the appropriateness, effectiveness and ethics of implementing these in teaching and learning. The course intends to provide a platform for learning with an internationally diverse group of participants."
For more information about the course and registration details, please visit www.lctl.org or download the course brochure here.